The Copa Libertadores 2012 DLC for Pro Evo 2012 will be released on PlayStation 3, Xbox 360 and Windows PC on April 27th.
Konami's John Murphy has said that PES has definitely lost ground to FIFA in the UK, but it isn't necessarily that way for all areas.
On the release date of PES 2012, Konami also reveal more details about the Facebook App "myPES", and the rewards you can win.
Konami has outlined the new modes and online features it will be brining to the Nintendo 3DS version of PES 2012.
The ever-changing and constantly-evolving world of Football is definitely difficult to keep up with. For example, the transfer market is always in flux and players move from one team to another like mercenaries for hire. Add to that the last-minute rush at the end of the transfer window, where a hundred-and-one players try to negotiate […]
This is somewhat of a new beginning for the series, and the control changes and gameplay overhauls make it feel very different also. This is just what the game needed and what the football videogame market in general wanted, for innovation and improvements to continue, competition is an absolute must. With PES 2012, Konami have finally pulled back into contention in the footballing competition, and all gamers should be happy about that.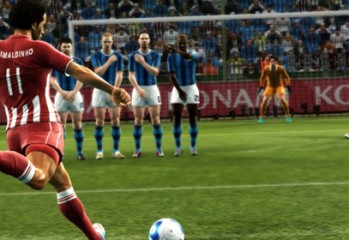 In another editition of our First Look feature, we're going to take a look at the first 15 minutes of PES 2012. It's that time again, and football fans will be eagerly awaiting the release of the two big hitters.
Following on from the first PES 2012 demo, of which its Xbox 360 release stalled, now Konami have released their previously-promised second demo for the title. The demo goes live today and this one is available on Xbox 360 as well as PC and PlayStation 3 – who also received the first demo. Gamers who […]
The first of two PES 2012 demo's will not be released on the Xbox 360. The 360 version of the demo failed to launch alongside its PC and PS3 counterparts on August 24th with a delay announced at the time. Now two weeks later PES European team leader, Jon Murphy has confirmed via twitter that the first […]