As we approach the quarter finals for the Rugby World Cup 2011, we're giving away copies of the game to four lucky winners. All you have to do to for a chance to win the game, is email us with your answer to the following question: Q: In the England v Georgia game this past […]
A game based on a major sporting tournament does not have to be as limited in its scope as this one, as EA showed us with their excellent South Africa 2010 title. With a new annual Fifa just around the corner and a new Madden already showing us just how comprehensively ace sports games can be, RWC 2011 is a disappointment.
After weeks and weeks and weeks of Zumba Fitness dominating the charts, we finally have a new release to get excited about; Deus Ex: Human Revolution, and if you've checked out our First Look, you'll understand why!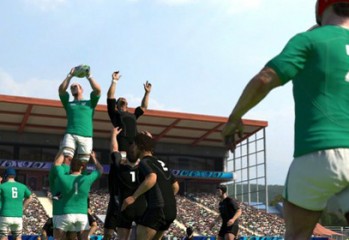 Welcome to another GodisaGeek First Look, where we take a look (in video form) at the first 10-15 minutes of a new title! This time it's the turn of 505 Games' Rugby World Cup 2011, and we're showing you the first half of a match.
505 Games and HB Studios have today announced not one, but three commentary teams for Rugby World Cup 2011. A UK, French and southern hemisphere team will all feature in the commentary box.
Further to the announcement of the forthcoming release of Rugby World Cup 2011 on 26th August, international publisher 505 Games and developer HB studios have today announced the games exclusive partnership with the Scottish Rugby Union (SRU). The official licensing agreement grants the exclusive use of the Rugby World Cup 2011 Scottish team strip, emblem, […]