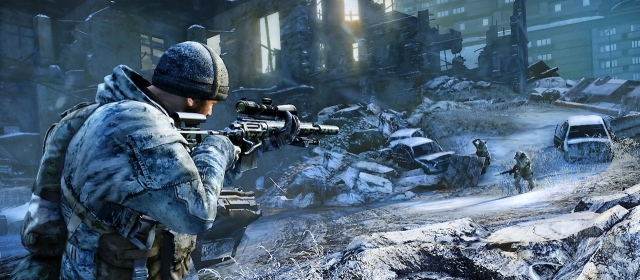 Mick packs his thermals and heads off to Siberia to review the first DLC offering for City Interactive's Sniper: Ghost Warrior 2.

Adam returns to hosting duties this week, as we have a two hour plus podcast for you to enjoy.

For people who enjoyed Sniper: Ghost Warrior 2 (like our Reviews Editor, Mick) this will come as pleasing news, as the first DLC - called Siberian Strike - is available now, for 800 Microsoft Points, or £8.99 in real money for PlayStation 3 or Steam users.

Despite concerns that it was too soon for another Gears of War, it seems the public have gone out and purchased it anyway, as it enters the UK charts in first place.

Sniper: Ghost Warrior 2 is a huge improvement on the original, not just graphically but in terms of story and gameplay, too. If you were allowed just a little more freedom to approach objectives in your own way, there'd be heaps of replayability here, but as it stands you can see everything there is to see in one playthrough and never have to adjust your tactics once.

CI Games has announced some upcoming DLC for their title Sniper: Ghost Warrior 2.

In case you didn't know, Sniper: Ghost Warrior 2 is due to be released worldwide, next Friday - hoorah! So to celebrate this fact, CI Games have released a launch trailer, showcasing the game and its luscious CryEngine3 visuals.

City Interactive has released the latest trailer for Sniper Ghost Warrior 2, focusing on Tactical Optics.

City Interactive has released a trailer for their upcoming Sniper: Ghost Warrior 2 title that focuses on headshots.