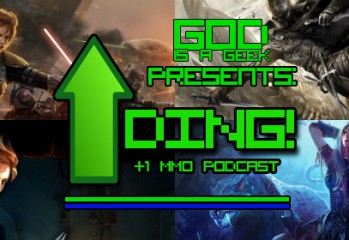 This week Calvin is joined by Cryptic Studios' Executive Producer, Daniel Stahl. Calvin and Daniel discuss everything Star Trek Online.
Cryptic are continuing to spread the Trek love this February with the arrival of a new Featured Episode series for the hit Star Trek themed MMO.
If you follow MMO news on GodisaGeek, you'll know that Atari and Cryptic Studios recently celebrated the 1 year anniversary of Star Trek Online. That means it's been almost a year since our initial review of the game. We felt it was time to give you an update on the ins-and-outs of the Online adaptation of Roddenberry's Universe. An […]
We are in to double figures! Myself, Aaron and Calvin are on hand to discuss some of our latest reviews. Battlefield: Bad Company 2 is a massive hit especially for the PC, Aaron tells us all about his review and why you should take to the battlefield. We were impressed with the Heavy Rain demo […]
Game: Star Trek Online Developer: Cryptic Studios Publisher: Atari Available on: PC from Play, Amazon (UK Link | US Link) Find out what we thought of the brand new MMORPG from Cryptic Studios, after the jump.
The podcast is back and this time it is episode 9. The usual suspects are once again on board to discuss all the latest gaming news and topics. This week Asim gives us a run down of Mass Effect 2 which scored the first ever God is a Geek 10/10, check out the review here. […]
As listeners to the GodisaGeek podcast will know we are fans of the recently launched MMORPG, Star Trek Online. The game only went gold last week and already Cryptic are preparing content updates. Apparently a lot of gamers have already reached high levels (due to early access and some hard core leveling!) and Cryptic don't […]