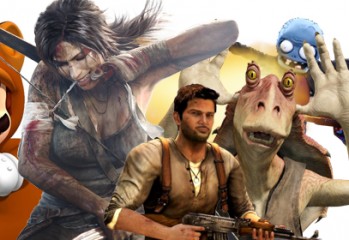 Jar Jar spin-off will have to wait

Nintendo hopes you're dreaming of a Yellow Christmas this year with an all new range of Nintendo 3DS XL colours.
It's Monday again, which means it's time for The Godcast, where Martin once again joins the gang to talk news, reviews and achievements, without ever purposefully promoting other podcasts that he appears on. Speaking of other podcasts, Adam does his best to create some kind of war between The Godcast and Saint & Greensie, with […]
In the past 12 months, Japanese gaming market has fallen in revenue by 8% but Nintendo remain on top with healthy figures for 3DS & Mario
It's game of the year 2011 week here at GodisaGeek and right now it's time to get down to the nitty gritty of things as we explore the "Best Platform Exclusive" category.
Continuing the GodisaGeek Game of the Year Awards 2011, this time it's all about handheld games.
Many shops on the high street are reporting that they've sold out of Metallic Red Nintendo 3DS' and other versions are in short supply.
3DS owners everywhere have been waiting for Super Mario 3D Land, but has it been worth it? Read the GodisaGeek.com verdict to find out!