It's that time of the week again where I bring you the very best content that has appeared on GodisaGeek over the past few days. You would of thought that after last week's mammoth edition the team here had collapsed in an exhausted heap, but that couldn't be farther from the truth. It's been another […]
2K Games have finally brought us a sequel to their 2007 shooter the Darkness. Read the full review at GodisaGeek.com.
New games everyone! Electronic Arts will wake up happy this morning, as Kingdoms of Amalur: Reckoning is the new UK number one. Full charts on GodisaGeek.com
This week the Godcast is another five-man show, with Ruk Cooray joining the regular crew of Adam, Calvin, Tony and Martin (in for Terry). Ruk wants to clear his name, but spends most of his time talking about the new Universal Wireless Controller for OnLive and mugging Terry off.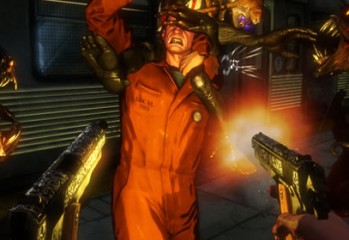 We wouldn't normally do this, but this edition of First Look comes with a warning; do not watch it unless you are prepared for some awesome - yet gruesome - violence.