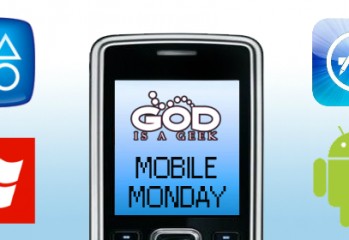 It's Monday so that means it's time for another four games to be reviewed in Mobile Monday. This week we've got Disco Kitten, de Blob: Revolution, Tesla Wars HD and Word Fusion. Read the full reviews for each game at GodisaGeek.com.
It is becoming a time honoured tradition now for Microsoft to put together some stellar titles and release them under the guise of the House Party promotion - and this year looks no different. Full details on GodisaGeek.com
Still in the off-season break, we bring you another Godcast extra, where we talk all about mobile gaming, and where it's heading!
You will now be able to bring you virtual pets anywhere! Kinectimals has gone portable and is now available for download on the Windows Phone 7! This announcement comes on the heels of the addition of bear cubs in its 360 counterpart, another great asset to the franchise. With Kinectimals for the Windows Phone you will be able […]
All of the titles discussed in this roundup are available right now through the Windows Phone 7 marketplace. Just go to the 'Marketplace' app on your device, press the search button, type in the name of the game you want and enjoy yourself!
The biggest draw to any Windows Phone 7 (WP7) device has to be the Xbox LIVE integration, and what it means to the user, as a gamer.
At GodisaGeek we have played almost every version of Flight Control, on every platform imaginable. The highly-addictive airfield management and strategy game sees players guiding their aircraft in to land, whilst making sure their flightpaths don't cross and trying to avoid crashes. Well now, exclusively to the Mac App store version of Flight Control HD, […]
After the Dead Island update, here is some more zombie-themed news for your delectation. PopCap Games can proudly announce the global launch of the smash-hit game Plants vs. Zombies for Windows Phone 7. It will be a part of the Must Have Games promotion that Microsoft are running, on Xbox LIVE for Windows Phone. It […]
If you're one of the early adopters of the new range of Windows Phone 7 mobile devices, then you'll be aware that their biggest downfall is the lack of quality apps available. Especially games. For a while now the iPhone and Android marketplaces have been well in the lead, but with the backing of the […]