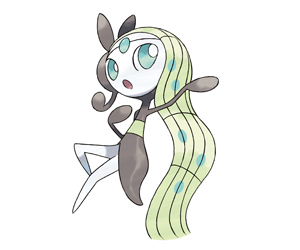 Even though the Pokémon world is fixated on X and Y, now there's a reason to dust off any game from the Pokémon Black & White series and bring it to GAME.
From March 22 for four weeks, if you bring your 3DS/DS to a participating GAME store in the UK, along with a copy of Pokémon Black 2, Pokémon White 2, Pokémon Black, or Pokémon White, you'll receive a Meleotta. The mystical Pocket Monster will be yours at level 50 in its Aria Forme. The bad ass thing about Meleotta is that you can change to Pirouette Forme during battle, or become a Normal and Fighting type. Meleotta got skills.
Thanks to recently released Pokémon TV app on iOS, you can check out a short cartoon entitled; Meloetta's Moonlight Serenade. You should download that app, anyway. Relive your childhood, dammit!
[nggallery id=1341]