Pressure must be something Telltale Games are used to by now, having created video game versions of Jurassic Park and Back to the Future. But it's fair to say that most people will know all about them after their 2012 game of the year, The Walking Dead. Being able to create their own character allowed leeway (sorry), but not a lot, and because the game is canon, characters from the comics could interweave their stories with Lee and co – the story mattered.
But Fables is a far deeper, more complex story, with so much intrigue, and so many wonderful stories already told. Within minutes of starting the first episode of The Wolf Among Us (entitled "Faith") there's a lot to take in. Newcomers will immediately be introduced to the idea that these Fables are grittier than those we may recognise from our childhood. The characters themselves are the "Fables": Snow White, Little Red Riding Hood – they are characters from those stories living as real people in the real world. They curse, they are violent, and some are the dregs of society. Moreover, most of them are protected from the mundane world (humans) by magic called "Glamour" that makes them look like normal people.
The game series is actually set 20 years before the events of the comic books, and so some characters that are important to the Fables universe are missing, whilst others, such as Snow White, Beauty & the Beast, and Bufkin (the winged green monkey) are present and correct. All of the characters are voiced extremely well, including main playable character, Bigby Wolf – better known to most people as The Big Bad Wolf.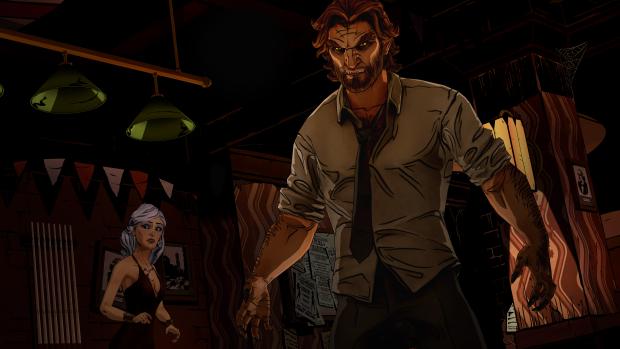 The gameplay works in a very similar manner to Telltale Games' previous offerings – you're playing a story that alters based on player choice. You'll interact with the environment in an effort to better understand goings-on, and fans of previous games will feel right at home. Obviously the visuals are allowed a more stylised approach given the comic-book base, and the user interface matches this nicely. Some tweaks, such as the ability to hold RT to walk faster, the option to invert the controls, and a looser action reticule (meaning you don't have to be exact to complete an action) mean that the overall experience is more friendly to non-gamers. This isn't a big deal, as the game is designed to be an interactive story.
Playing as Bigby Wolf means that you are the law in Fabletown, thus much of this first episode is spent investigating a rather brutal crime, tracking down suspects, and generally piecing together the story as well as learning more about how things operate in the world of the Fables. Small nods to other important places such as The Farm are made, so there's hope the environments will eventually become more varied, because although Faith clocks in at around 2 hours, much of it spent in static environments such as bars or apartment buildings.
Player choice is such a staple of a Telltale game, and even with a decent knowledge of the Fables series (I've read all the main comics to date) even these early decisions feel important. Going even further than before, as well as the traditional timed choices, Telltale also offer the chance for us to decide where we go, and when. Pivotal moments require player choice before playing out – which way will you go? Moreover, even armed with the knowledge that this is a prequel doesn't harm the narrative one bit, in fact it feels like it was made by fans, for fans.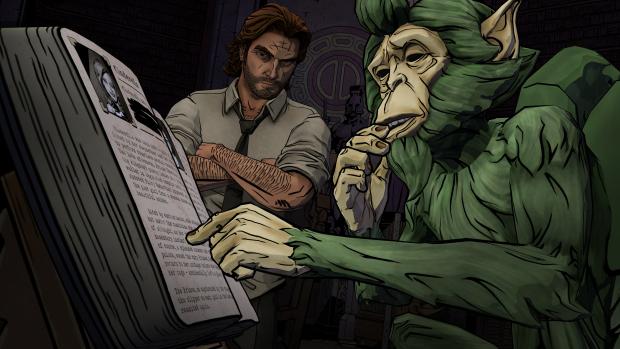 That said, pacing is an issue throughout. Opening with a bang before settling into a very slow middle means that the tense close to episode one is a great pay-off, but it's tricky to know if players that are unfamiliar to the universe will feel too bogged down with the investigative work that is the mainstay of that middle section. There's a very interesting story being told, though, and there are wonderful moments of colourful humour that light up the entirety of this episode. In fairness, however, the existing lore-base is huge, so it's tricky to know what more Telltale could have done to explain the basics of Fabletown without episode one being 20 hours long.
Bigby Wolf is a fantastic character, and his dialogue options reflect the personality explored in the comics perfectly, allowing you the option to throw sarcastic dints into any would-be attacker's armour, whilst giving newcomers the impression that he is absolutely not to be messed with. Mr. Toad is introduced early on and revisited later, which is a clever move as his cheeky English accent and profuse swearing lighten the mood whenever he's used. Hell, there's even an early scene that's remarkably similar to a panel from the very first comic, which feels like a mark of respect to the source material. Overall, Telltale have made Fables their own, with a great looking rendition of Fabletown that is brought to life further with superb voice casting.
On top of the two hours it will take you to finish "Faith", there is a handy book of Fables that provides further information on the characters you'll get to meet. There are slots for the people you are yet to encounter in episodes 2 through 5, as well. As we've come to expect, player choice is shown at the end of the episode, letting you know how many players made the same decision as you, after a tantalising teaser for episode two.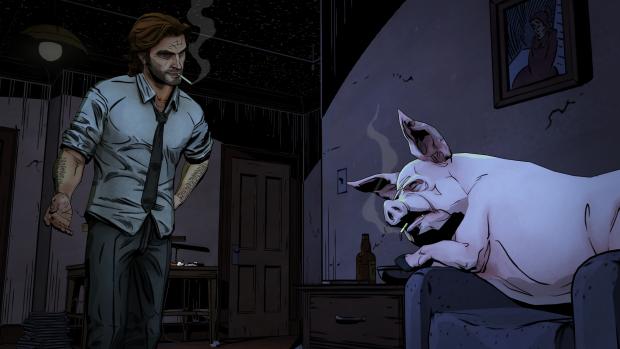 VERDICT: Without a gargantuan franchise like The Walking Dead for Fables to exist within, Telltale Games could have easily fumbled here, but it seems that they continue to thrive under pressure. Managing to create a prequel story for a universe that had already existed for over ten years, that has spanned different art styles and spun many stories, is no mean feat, but on the basis of this first episode, it looks as though The Wolf Among Us is a worthy addition to the world of Fables.
Only time will tell as to whether the writing stays as strong as it needs to, but it's fair to say there's a pedigree involved here that demands noticing. It's a slow opening, sure, but Telltale certainly know how to bring a comic book to life in video game form – this is yet another excellent example of that, and one that pays huge respect to its source material.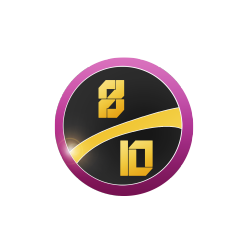 VERY GOOD. An 8/10 is only awarded to a game we consider truly worthy of your hard-earned cash. This game is only held back by a smattering of minor or middling issues and comes highly recommended.
Our Scoring Policy