Episode One of The Wolf Among Us may have ended on a real cliff-hanger, but the wait to find out what happened has been much longer than anyone envisioned. Fans have been voicing their displeasure regarding the four month wait, but at least they can finally get their teeth into Smoke & Mirrors.
And there really is a lot of action to get stuck into. You may not get the absolute resolution for episode one that you wanted, instead it seems a little contrived. The resolution will possibly leave you feeling like it was soap opera created simply to cause a buzz for the next episode, before being quickly glossed over. Even so, it opens up many new lines of investigation for Bigby and provides many opportunities for the game to test just how far it can push you.
Although most of these action scenes can be avoided thorough some quick-thinking and smart-talking, Telltale certainly make it seem like it would be a lot easier to just indulge your violent side. These different moments will shape how your version of Bigby develops, and whether or not both the character and yourself can keep cool under extreme pressure.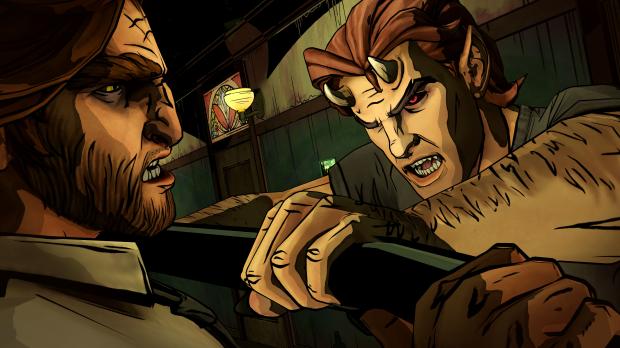 But don't let this put you off if you are looking to enjoy the story rather than just getting yourself into fights – as none of them will require lightning reflexes or precision-timing to complete. Even though it doesn't always choose to feature as much bloodshed and graphic violence as other titles, it feels a lot more adult, both in its content and execution. Perhaps it is because the choices that you take and actions that you carry out make the story so personal and allow you to connect quite closely to the characters. As such, you feel more disturbed by its violence and any mistreatment of its characters than many other games. And to say that the episode leans heavily on the themes of torture, prostitution, and ritual murder, gives you an idea of just how serious the issues being faced in-game become.
Coming from a company that has made a name for itself with interactive stories that you shape through your own actions, Telltale try to make every choice count. Aside from the "previously on" compilation videos at the start of the episode, choices that you made in episode one will already have relevance in this instalment, as you once again meet characters such as Mr. Toad and Beauty who will definitely remember how you acted towards them previously. Indeed, one action sequence in particular hinges quite heavily on what you said in the past. It isn't all about meeting previous acquaintances though, and there are a lot of new Fables to encounter in Smoke & Mirrors – some helpful, others a little less savoury.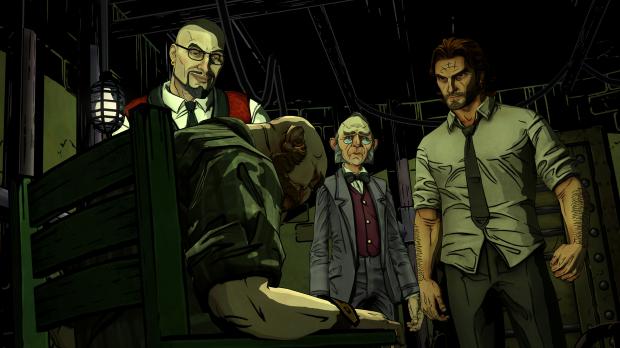 Aside from the intense story, the other thing that really grabs you about The Wolf Among Us is just how stylish it is. Even though the title is set in a grimy 1980's New York, the choice of colour palette and cel-shaded style make the game look incredible. There is an unmistakable Noir atmosphere hanging over everything, but the choice to use yellows, blues, and purples for highlights and shadows gives The Wolf Among Us a fantastical other-worldly style. The feeling of mysticism is helped along by the strange characters that you meet, and these are all smoothly animated and full brought to life in a very believable way. This sense of real, living characters is helped no end by solid performances from the entire voice cast, and if you listen carefully, you'll be able to hear both Clementine and Lee from The Walking Dead in some of the Fables characters.
VERDICT: Where episode one faltered with pacing, episode two is an almost relentless barrage of action, barely giving you time to breathe. The only real problem with this is that Smoke & Mirrors flies by and is over before you know it, making you desperate for episode three.
But don't let that take away from the really affecting and sometimes shocking writing and action featured within Smoke & Mirrors. You will already worry about the main characters and be annoyed about making the wrong choices – and this is where Telltale have already succeeded. They have managed to create another adaptation of an established comic-book series which makes you second guess your actions and re-evaluate your decision-making at every step. There are few games that are as personally involving as this one – and we aren't even halfway through yet.
VERY GOOD. An 8/10 is only awarded to a game we consider truly worthy of your hard-earned cash. This game is only held back by a smattering of minor or middling issues and comes highly recommended.
Review code provided by publisher.