Release Date
September 8, 2015.
Ever since I decided to take a chance and buy Hatsune Miku Project Diva F on Vita, I've been hooked to rhythm games. I bought the sequel on launch day and loved it. I'm glad SEGA decided to localise Hatsune Miku Project Mirai DX because it is a great rhythm game and the best one available on 3DS right now.
While the PlayStation Hatsune Miku games involve lifelike models of vocaloids, the 3DS gets cute chibi versions that resemble the popular Nendoroids. I don't know what it is about the 3DS that makes franchises go chibi but it works great here just like it did with Persona Q.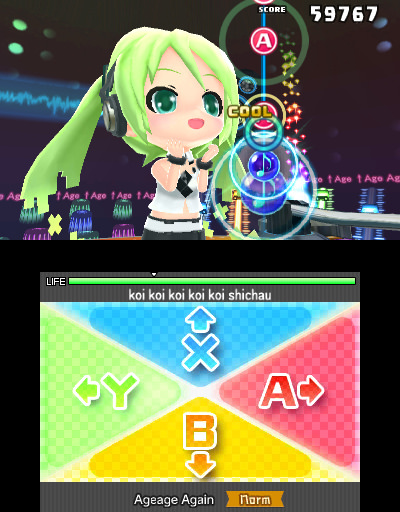 Rhythm games usually have a ton of extra content but the meat is great music in the core rhythm gameplay. Mirai DX is no slouch here with nearly 50 full songs and the ability to tweak some tracks to feature other vocaloids. You unlock songs by playing through the small pool available in the beginning and, just as with Project Diva F, I enjoyed the latter songs a lot more.
Precision controls are everything in games that rely on reflexes, and not only have the developers made Mirai DX more accessible but the controls have multiple schemes. You can play through the rhythm game with Tap Mode that uses the 3DS stylus or Button Mode. The Tap Mode on Easy is perfect for newcomers to rhythm games. Button Mode took me some time to get used to because of the placement of X and Y on the 3DS not being muscle memory like the PlayStation symbols, but both modes are fun after a few songs. Speaking of modes perfect for beginners, Mirai DX is a lot more forgiving with missing notes.
Each song has lovely 3D videos accompanying the barrage of notes that you tap through. I was skeptical at first because as much as I love Nendoroids, I didn't think Nendoroids dancing and singing on the 3DS to music would look good, but Mirai DX's great choreography and unique backing videos proved me completely wrong.
The main menu is basically like a custom 3DS theme running with the clock and date on the bottom screen with various options and your partner (Miku in my case) roaming around her room on the top screen. This menu allows you to dress up your partner, set an alarm or timer, remodel the room, play mini-games, view screenshots, and more. Mirai DX's Puyo Puyo 39 (a version of Tetris) mini-game is far too addictive and I spent a good amount of time just playing that instead of the songs.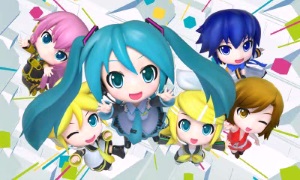 The Go Out option lets you explore a small map and visit a department store to buy snacks, clothes, and accessories. There's also the ability to view AR videos if you own the cards and edit dances for the songs using a lovely editor. I never thought I'd actually enjoy decorating a room but when you get to buy virtual Nendoroids in a game about Nendoroids, it all feels too kawaii and meta to not enjoy yourself.
I'm not a fan of how the hard difficulty is only available to certain songs. I enjoyed ploughing through all the songs in the Project Diva games on Vita trying to nail each difficulty and Mirai DX is quite a let down in that aspect. Hopefully the next 3DS Miku games fixes this and allows for more customization during songs as well because those hold this back from being my favourite Hatsune Miku game.
Hatsune Miku Project Mirai DX is the definitive rhythm game for 3DS now. Even though games like Theatrhythm Final Fantasy have a lot more music, Miku takes the crown and conquers yet another platform. If you own a 3DS and enjoy great music and cute things, Mirai DX is something you should have preordered a long time ago. I'm glad Sega decided to finally localise a 3DS Miku game.
Review code provided by publisher.
Positives
Tons of songs.
Looks and plays great.
Beginner friendly.
Negatives
Not as flexible as the Project Diva F games.
Hard difficulty only available for six songs.
Hatsune Miku Project Mirai DX is an extremely cute and fun version of our favourite vocaloid's rhythm game for 3DS.