n an age in which some companies are trying to be rid of wired earphones, it's of great delight to me that some are still striving (and succeeding) to make new, different earphones which are well priced and can be plugged in. Wraps are a brand of wearable earphones that are durable, fashionable and above all have a good quality of sound for not a whole lot of money.
Wraps are made of robust material that covers the usually thin and easily torn wire, which protects the earphones and makes them a lot more damage proof than your standard, everyday earphones. I was constantly pulling, twisting and tearing my pair to see how far I could push them and they refused to break. This also makes the earphones splash and rain proof, if not fully waterproof.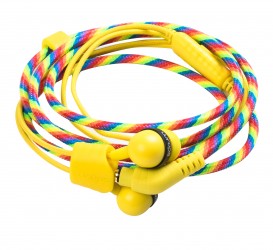 The whole point of the tough design is that you can wrap Wraps around your wrist when not in use and wear them as a nifty bracelet that is all the rage these days. I did find them to be a little fiddly to actually get on, as when I wrapped it tightly round my wrist the jack didn't quite reach the slot which makes it into a bracelet, but once I finally got it sussed I found it to be quite cool and comfortable. Even if I didn't think it would look good, I still think wrapping the earphones around my wrist is a much more convenient means of transportation then stuffing them in my pocket, because on my wrist they don't become a hot, tangled mess.
I wasn't thrilled with my garish yellow and rainbow coloured pair, but there are lots of different colour and design options. There are definitely some different pairs I'd happily wear, whenever, and no doubt there's a design for everyone.
On the technical side of things, the earphones are in-ear and three different ear-size options come in the box, meaning there should be a size that fits any ear. The sound quality is crisp and loud, but not to a deafening level. The earphones also include a button and microphone on the right side, making them modern and even more convenient when in use. However, it is a little on the big side and has to be positioned carefully when wearing as to not get in the way.
My only real qualm with Wraps is that the earphones themselves are incredibly long, so as to facilitate the wearing mechanism. Therefore when in use it's very easy for the earphones to snap on objects and either come out of the device you're listening to or, much worse, rip said device from your pocket.
But priced at £15-£20, Wraps are very much good value for money, as they offer something new and quirky, while still providing good quality sound.