Check Out the First Assassins Creed 3 Gameplay Trailer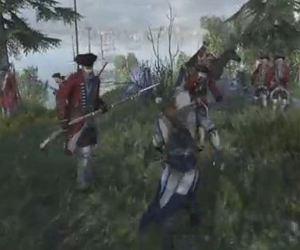 We've just got our excitable little hands on the first gameplay footage of one of the biggest releases of the year, Assassins Creed 3.
The video introduces us to Connor, the new assassin. Connor is of course a brutal killing machine, and we get a tantalising glimpse as to what his motivations are in the upcoming Ubisoft epic. We also get to see him kick the asses of a number of British soldiers – a reminder of the games setting, that being the American Revolutionary period.
Assassins Creed junkies will doubtless notice a number of new moves from the trailer below, climbing and planning attacks from the tree tops looks like a particularly interesting addition, and of course there are signs of many of the familiar Creed' skills sets.
Check out the trailer below and be sure to let us know what you think. Stay tuned to GodisaGeek for all the latest on Assassins Creed 3. Is it October yet?