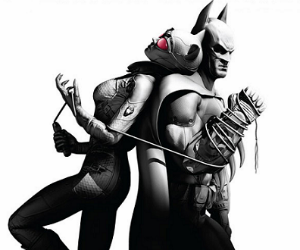 Lucky US gamers have already got their hands on Nintendo's gorgeous new Wii U system, but here in the UK we've got to wait until a week on Friday (grumble). Still, we can console ourselves a little (geddit? I'm here all week) with the influx of launch trailers heading our way, showcasing what the day one line-up has in store.
This new trailer for Batman: Arkham City: Armoured Edition shows off a handful of enemies such as Joker, Penguin, Two-Face, Harley Quinn and Bane, but fails to demonstrate the new features afforded by the Wii U's unique GamePad controller that make it such an inviting prospect on the new console. These features include using the pad's central screen to scan the area for evidence and sort through your inventory, and the new B.A.T (Battle Armoured Tech) Mode, a kind of advanced melee system that allows you to build up momentum with which to bring uber-justice to the goons of Arkham City.
What the trailer does show is the Caped Crusader and his occasional ally Catwoman (attired in a rather alluring leather onesie) indulging in all manner of fisticuffs with assorted painted goons. Also, we're especially fond of the Clown Prince's rendition of Only You. Check it out below.
Batman: Arkham City: Armoured Edition will be released in Europe on November 30 and is available now in North America for Nintendo Wii U.