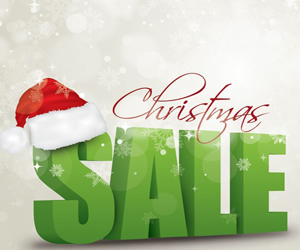 Bookmark this page.
Nobody is a fan of spending more money than they have to – that's why you bought your dad some socks and a 6 pack of crisps for Christmas – so we here at GodisaGeek want to bring you all the terrific digital and UK based retail deals out there, for the best games on the market.
We'll be updating this when we hear of some other fantastic deals, but if you spot something that you think the GodisaGeek readers would like to hear about, drop it into the comments below and we'll update this post with the new info!
December 20
Polytron's unique platformer Fez is half price for one day only on Xbox 360. You can pick up the game for a measly 400 Microsoft Points and we think you'd be mad to let this pass you by. In other Xbox related savings, the downright amazing Mark of the Ninja is half price at 600 Microsoft Points. To prep yourself for Rayman Legends, why not download Rayman Origins for £19.99 or, pick up Trine 2 for 400 Microsoft Points.
PlayStation are currently running a 12 Deals of Christmas promotion and up until 11.59 pm tonight, you can get two of the best games from this past year in a half price, BOGOF type deal. Journey and The Unfinished Swan should not be missed, especially as the games are usually £19.98/€25.98 when bought separately and you can now pick them up in the aforementioned bundle for £9.99/€12.99. PlayStation Plus subscribers will also get an addditional 10% off, bringing it down to £8.99/€11.69.
It would be bold of us to forget about the folk who play on their smartphones, and it would also be wrong to do so as the mesmerising Bastion is on sale for $0.99/£0.69/€0.89 on iOS via the 
. Now that's a steal.
In terms of retail games on the 360 and PS3, Far Cry 3 is currently on sale at both GAME and Amazon for £22.49. If you refrain from availing of that offer, I'm not sure we can be friends anymore.
Over on Zavvi.com, you can pick up the wonderful Sonic & All-Stars Racing Transformed for only £17.99 on PlayStation 3 and Xbox 360.
The Steam Holiday Sale has begun, so PC gamers better get ready to lose their life savings between now and January 6. Up for grabs today, the much loved Mirror's Edge is 75% off at £3.24, the recently released Hitman Absolution has been discounted by 50% and can be picked up for £14.99. Even Batman: Arkham City Game of the Year Edition is available as a Flash Sale for a measly £4.99, after dropping in price by 75%! To check out more of these deals, head over to Steam and be prepared to spend some cash.
Chasing Aurora on the Wii U eShop is now on sale until January 3. You can download the game for £5.39/€5.99/$7.49.
December 21
Over on PlayStation 3, another day means another offer in their 12 Deals of Christmas promotion. Today, it's all about Hitman: Absolution which sees a considerable drop in price to £19.99/€29.99. PS Plus subscribers will get an additional 10% discount and pick up the game for £16.99/€25.49. The offer lasts until 11.59pm tonight. But, it's not just about the 12 Deals of Christmas, as PlayStation are also having a general festive sale that sees Saints Row 2 (€9.99/£7.99) and Tekken Tag Tournament 2 (€39.99/£29.99) on offer, among other titles.
On Xbox 360 today, it's all about Rockstar. Four of the publisher's most heralded games in Red Dead Redemption (£11.99 /$19.99), LA Noire (£11.99/$19.99), Midnight Club: LA (£8.99/$9.99) and Max Payne 3 (£14.99/$39.99) have all been discounted by 33%. The glorious Super Meat Boy is now 50% off on XBLA, for the first time ever.
On this, the second day of Steam's Holiday Sale, the deals are plentiful. The brilliant Deus Ex: Human Revolution is available at only £3.74/€4.74, the recently released Doom 3: BFG Edition is half price at £9.99/€14.99 and Stealth Bastard Deluxe can be picked up for only £5.24/€6.74. Of course, that's only scratching the surface. Get on over to Steam and have a look yourself.
December 22
Today, Steam has got you covered with Dishonored on sale at £14.99/€24.99, Double Fine's glorious Psychonauts is down to £1.49/€2.24 and the game that rejuvenated a genre to many – XCOM: Enemy Unknown is now £20.09/€33.49. Keep your eyes on Steam's Holiday Sale to ensure you don't miss one of their many fantastic deals.
December 23
Whoa! Far Cry 3 is half price on PlayStation 3 via the PSN. Pick up one of the best games of this year for £24.99/€34.99 – if you haven't yet, you really should.
In terms of XBLA titles, three games from this year's ultimately disappointing Summer of Arcade have been discounted. Dust: An Elysian Tale and Deadlight are available for 600 Microsoft Points, whilst Hybrid can be picked up for 400 Microsoft Points.
On Steam, the recently released Ace of Spades is half price at £3.49/€3.99, the polarising Dear Esther is incredibly cheap at £1.74/€1.99, one of the most successful ever mods Dota 2 is £11.49/€13.99 and Dead Island is available for £6.79/€6.79.
December 24
The Steam sales continue, with They Bleed Pixels being a particular highlight in the flash-sales, at £1.72 (from £6.99) – don't miss this one, folks! Dead Island is also £6.79 on Steam, while Half-Minute Hero is only £2.37, and Bastion is £2.86.
Zavvi has some cracking Christmas Eve deals on offer today for both Xbox 360 and PlayStation 3 – FIFA 13 is £24.99, Dark Souls: Prepare to Die Edition is £14.98 and Far Cry 3 can be picked up for £24.95.
There's plenty for Trials fans on XBL today as Trials HD is down to 400 Microsoft Points and this year's sequel Trials Evolution can be purchased for 800 Microsoft Points.
December 28
After a few days of digesting turkey, we're back to find some great deals!
Steam's Winter Sale is still in full swing and some of their money saving offers include Spec Ops: The Line for £6.79/€6.79, the entire season of The Walking Dead for £10.49/€12.49, FTL for £3.49/€4.99 and XCOM: Enemy Unknown for £20.09/€33.49. You can't go wrong with any of these games.
If you want to play Telltale's award winning The Walking Dead on your 360, there's no better time to jump in! Each episode is half price on XBLA right now, meaning the entire first season will cost you 800 Microsoft Points!
December 30
Even though the Steam Holiday Sale is in full swing, some of the deals we're bringing to you today, are undoubtedly the best yet! Just Cause 2 is down to £3.49, Bioshock 1 and 2 are available at £6.99, every bit of Grand Theft Auto content since GTA III is 75% off, the Left 4 Dead series will only cost you £5.74, Skyrim is down to £17.37, AC III is can be purchased at a 25% discount meaning it'll cost you £22.49 and that is only a few on offer, today. Incredible bargains.
On iOS, the Doodle Jump styled Sonic Jump is free on the
.
Check back regularly for more penny saving deals.