You know what day it is? It's Monday again and that can mean only one thing here at GodisaGeek.com: It's time for another edition of Mobile Monday, the article where we take a look at four mobile games and let you know if they're worth your time and money.
This week we're taking a look at two games that make use of two different peripherals; AppRacer and AppQuiz, both of which are developed by AppToyz with the peripherals also being developed by the same company.
Read on to find the full reviews of each game and don't forget to come back next week for more Mobile Monday reviews. While you're here, if you have played any of the games listed, or even just want to come back once you've had a go to let us know how you got on, we'd love to hear from you in the comment box at the bottom of the page.
Get downloading and get playing!
Titles are available on iPhone and iPad unless specifically stated otherwise. If you like what you read, click the small black "App Store" button to load iTunes up and purchase the title!
APPRACER PERIPHERAL:


APPRACER:
There aren't many things that will excite kids more than a remote control car. I was the same when I was growing up; being able to drive around like a miniature speed demon is something thrilling and exciting, especially when the RC car has some sort of gimmick. I've had cars that can flip upside down and still go, ones that can right themselves if they're flipped over and even ones that move at an insane speed. However, I've never had an RC car that could be controlled from an iOS device – until now.
The app itself, AppRacer, isn't so much a game as it is a remote control for the RC Car that is purchased from AppToys. With the app correctly configured to "talk" to the RC Car, the user can then control the car as if they were holding a traditional controller within their fingertips. There are a couple of significant differences though, some which make using this app/RC car combination a more impressive way of using a remote control car, and other ways which almost ruin the entire experience. We'll start with the good things though.
The remote control application is absolutely fully featured, with the player able to choose to control their brand new RC Car either through direct control, with a sort of on-screen analog stick which will turn the car left and right, or through tilt mechanics by using the iOS device's accelerometer to turn the car's wheels. It's a nice thought, and the tilt method almost works, but not enough to make it the preferential method of control over the more traditional analog stick control. Most players will try out using tilt control to move the RC Car through their environment, but it's nothing more than a gimmick and I can't imagine people using it for too long unless the functionality is significantly improved.
There's also the ability to record moves into the application, which can then be transmitted to the car in order for it to repeat them exactly as you put them in. This is a nice new feature that you couldn't have seen on the more traditional remote control cars that most people will be used to. Another of the negative points of the application, and the toy as well, is that the user has to be rather close to the RC Car in order to make it work, which almost defeats the point. With both the car and the transmitter fully charged, and the two devices communicating correctly with each other, as soon as I found myself more than about four feet away from the car, the application ceased to work as expected, usually stopping moving left or right first, then stopping altogether.
All of this is a little disappointing from a toy and application that holds so much appeal. Hopefully AppToys have the ability to upgrade the application through a firmware update to allow it to communicate with the car more accurately and over longer distances. I don't want to be able to drive the car down the street from my iPod Touch, but being able to drive it at least across the room would have made the application much more fun to use.

APPQUIZ PERIPHERAL:


APPQUIZ:
With Christmas having been and gone now, I'm sure there are a lot of us gamers that sat around with our families just wishing we could be playing games, any games, even family games. In our house, one staple of any kind of family-related holiday is quiz games, whether they're the Xbox 360 based Scene-It that found itself into our house one christmas, or one of the several board games we have lying around. This year we had AppQuiz from the guys over at AppToyz, to have a look at. Is it as good as the console based solutions? Or even the traditional, classic, board games?
If you've played a quiz game before then you know what AppQuiz is all about; basically, as you've guessed, it's about answering questions. In each round, the players will be given a variety of questions based around a topic that has been picked at the start of the round. The players have ten seconds to buzz in and answer the question before time is up and points are taken away from all of the players involved. In relation to the AppQuiz peripheral, the players are assigned to one of the four buzzers, when a question is asked, the player that thinks that they know the answer use their buzzer to buzz in, then, the player that buzzed in gets control of all four buzzers in order to input their guess (or they can just touch their selected answer from the touch screen).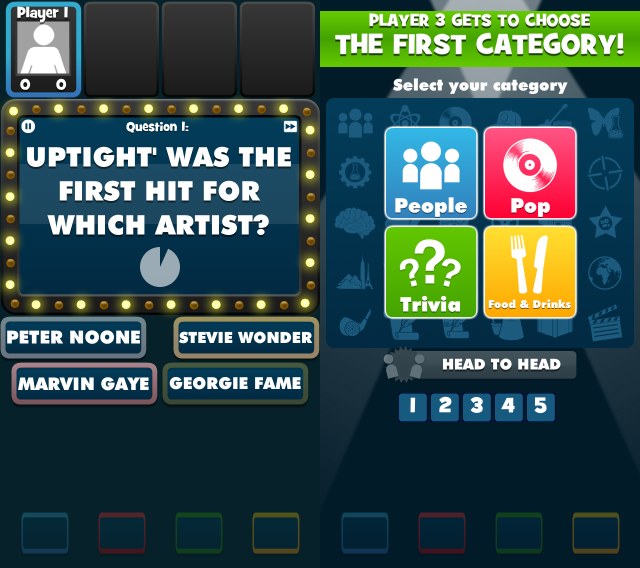 There are plenty of questions in the application the players can download for free, enough for most players to not get the same question twice unless they're playing a lot more than the developer expected. However, if you do play enough to start getting the same questions twice then there is the option to purchase even more questions. A game like this is only really fun when you're playing with a group of people, whether that's family or friends, so most people won't have to purchase the secondary question pack, but it's nice to know that the option is there for people that need it.
As soon as you've gotten the AppQuiz peripheral calibrated properly with the application the controls of the game are as easy as smashing the buzzer when you think you know the answer to the question, and then either tapping the screen to select your answer or pushing on the buzzer that relates to the colour of the answer you want to select. It really is as simple as it sounds and that's just as well seeing as the game is supposed to be accessible to a wide range of people. The only time the controls will be a problem is if the player doesn't calibrate the whole system properly, which could lead to some of the buzzers not activating properly and cause annoyance to the player that's attempting to smash the buzzer only for it not to work.
If you've got family coming round, or just want a quick quiz on your own, then AppQuiz is a great option for almost anyone. You can play it without the peripheral with no problem if you're just wanting a quick brain-teaser on your way to work, but you can bust out the full peripheral, install the free app on an iPad (or even just keep it on an iPhone or iPad Touch, although the family will have to get closer than most people are comfortable just to see the questions on the smaller screen) and have some family fun whenever you feel the need. Nothing wrong with that.

Don't let us be your little secret: SHARE!