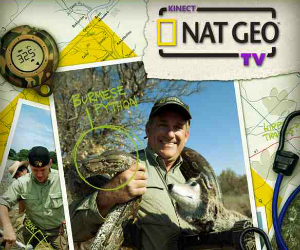 A few months back we reviewed the first season of Kinect Nat Geo TV, an educational, interactive TV show from National Geographic that helps players, primarily children, to learn more about the world around them through play, exploration and fun! The second season is finally here and instead of writing another review that will tell you more or less the same things – all of the same game mechanics are still in place, just the episodes have changed – we thought we'd show you what you're missing out on, with a bit of a review for you to listen to while you're watching too, of course.
This second season, hosted by Dangerous Encounters' Brady Barr, tasks player with watching interesting and informative documentary film footage, shouting at the screen during special built-in mini-games and "Going Wild", becoming the animal that's the focus of the particular episode you're watching.
It really is some great interactive TV, but it's something that's got to be seen and experienced to believed. Thankfully we've got that first part covered with our video review, so sit back, relax and watch.
There's some interesting stuff in there, but does it pique your interest? Let us know in the comments below. Kinect Nat Geo TV is available now exclusively for Xbox 360 with Kinect.