Aside from the big new announcements which we have already brought you previews and interviews for – such as Child of Light, Valiant Hearts: The Great War, The Crew and Watch Dogs – the Ubisoft Digital Days event in Paris was also a chance for the company to show off many other titles that may not have been quite so headline-grabbing. Here is a run-down of the best of the rest that were on show.
Rayman Fiesta Run:
After Rayman Jungle Run was a huge success, and won all sorts of praise and awards – including Apple's number one App award for 2012 – it was no surprise to anyone that a follow-up game was also in the works. The title may have switched from Ubisoft Montpellier to Ubisoft Casablanca (the team who produced the Vita version of Legends), but it is already shaping up to be just as much fun as its predecessor. It certainly looks the part, as the UbiArt engine is in play once again, allowing the game to look as visually exciting as the full console versions; even when it is played at such a frantic pace.
The most obvious new element in the game, are the transitions between foreground and background layers. Jumping on particular pads will launch you forward or back into different planes, but split-second timing and judgement will be required to know when to transition in order to collect all of the lums in the level. These Lums can then be spent on power-ups that can be applied at the start of each level. Extra Hearts and Boxing Gloves can be purchased to help you through the more difficult missions – and of course micro-transactions are in place so that you could purchase extra if you haven't collected enough during the levels.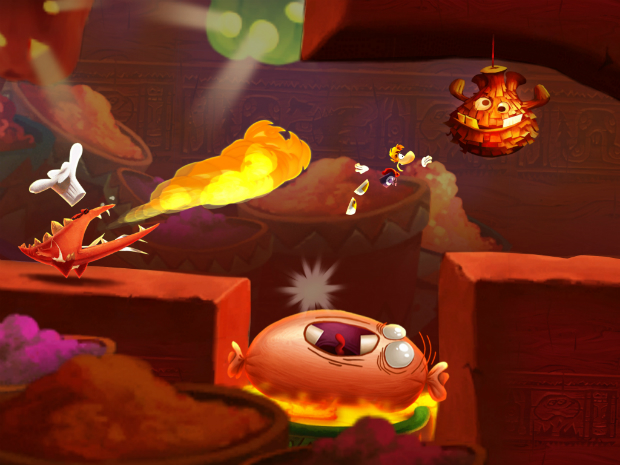 Thankfully though, we were informed that the whole game is playable without in-app purchases, they only speed things up or offer an easier option. Players with enough skill and patience needn't buy any extra help. The game really is all about precision, waiting and judging the best times to jump, in order to complete the levels as quickly as possible – whilst also grabbing everything you can. There are new Invasion modes that open up once you have completed a level 100%, which is another feature lifted from Legends – this could really extend the life of the game, as re-played levels become more challenging, with more obstacles and enemies to engage. Due in late 2013 for iOS and Android, Fiesta Run is longer, harder and more beautiful than Jungle Run . What more could you ask for in a sequel?
Assassin's Creed: Liberation HD:
This one is a fairly obvious proposition – the previously PS Vita-exclusive title (the first in the series to feature a female protagonist) has been re-worked and re-mastered in full HD for home consoles. The graphics and sound have both been improved radically, to the point where the game looks almost as crisp as one of the full Assassin's Creed games that were designed specifically in high definition. This even extends to the in-game cinematics, so the title comes across as a pretty polished offering overall.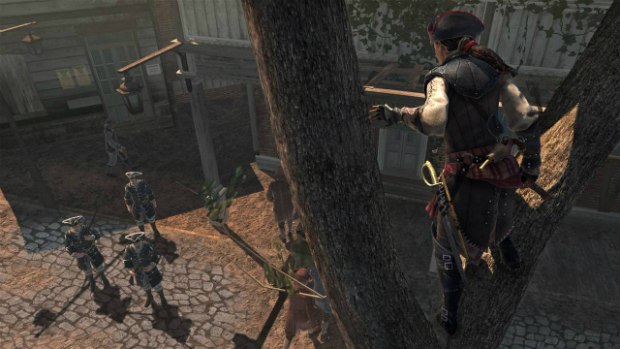 When the game first launched, it was criticised for having a slightly uneven story, which was a little weak, with poor mission progression. The developers have at least attempted to remedy this by adding a selection of new missions and extending some of the existing ones, in an attempt to improve the story and pacing of the title as a whole. The gameplay remains more or less unchanged, but the main attraction of this package is obviously the chance for console gamers to experience a game that has never been previously available to them. The title will release as a digital-only game in early 2014 for Xbox 360, PlayStation 3 and PC.
Assassin's Creed: Pirates:
Rather than being a companion app to Assassin's Creed: Black Flag (which would be a logical assumption to make, considering the pirating theme), Pirates is a completely separate mobile game being developed by Ubisoft Paris. Playing as young up-and-coming pirate Captain Alonzo Batilia, the title is concerned solely with sea-based combat and naval exploration, with none of the other regular Assassin's Creed gameplay elements, such as free-running and assassinations involved.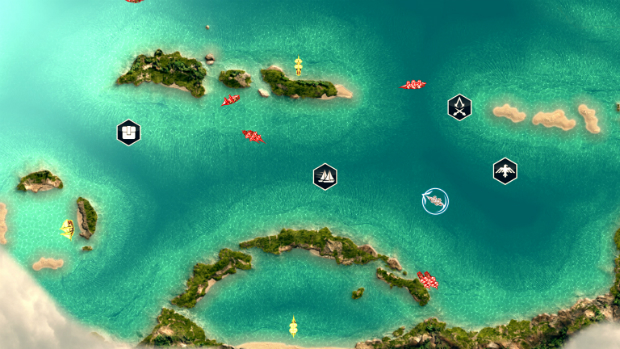 As the player progresses through the game, they will search for the lost reassure of La Buse, meeting other famous pirating characters (which will relate a little to Black Flag), and rise up through the ranks of the Pirate Order. Gamers can upgrade their ship, manage their crew and explore the large in-game map as they look for treasure. Of course, there will be the addition of achievements and such, but little is yet known about the gameplay. We haven't gotten any hands-on time with the game yet, so will have to reserve judgement on how the title plays out until a bit closer to its release, which is also planned for late 2013 on iOS and Android.
Just Dance 2014:
The fifth entry in the million-selling dance series will launch in October, and it features a whole host of new modes to play through. Whilst we only had the chance to try out the classic free-dance mode, the title will also include new features such as on-stage – where a lead dancer performs with two more players as back-up, Karaoke modes – where extra points can be earned by singing along at the correct time, a ghost mode – allowing players to dance against a friends' previous performance, and Party Master – a Wii U exclusive mode where the player with the Gamepad can change-up the game rules on the fly, creating a manic party experience.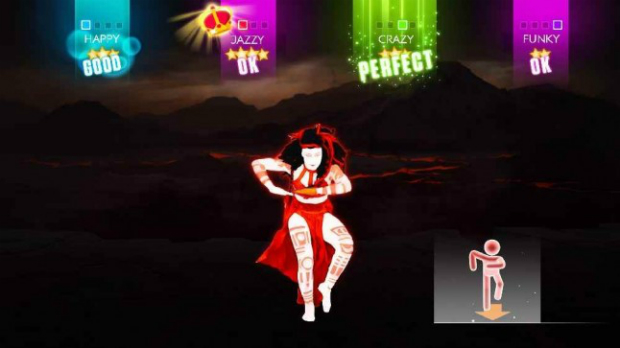 The aesthetics of the game remain as bold and neon as ever – and the game will feature a massive playlist of songs to dance through, but the feature that we got to look at in-depth is the Autodance system. All of the console versions of the game have the feature integrated – and there is also an Autodance App – and these allow gamers to capture snapshots and short video clips from their performance, which are then auto-mixed and set to music, creating a short music video that can be instantly shared via social networks and uploaded directly from your console or mobile device. This can lead to some hilarious results, and is obviously aimed at strengthening the already loyal Just Dance community.
Rabbids Big Bang:
For all of those gamers who have been waiting for a Raving Rabbids game, crossed with Angry Birds in Space – your wish has now been fulfilled. Maybe this should have been called Stupid Rabbids – that is more or less what Rabbids Big Bang amounts to. There is no need for a set-up, the Rabbids are crazy, so that explains all of their actions. The aim of the game is for one Rabbid to smash another with a baseball bat, which will then send them off into orbit around nearby planets. That all makes sense right?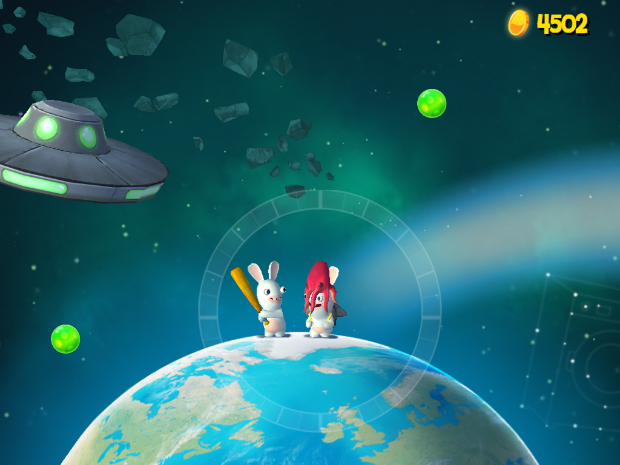 The game is largely concerned with gravity and momentum, with players needing to balance taking into account multiple gravitational fields with how hard to hit their Rabbid, and whether or not to employ their Jet-Pack. Players must collect orbs as their Rabbid floats about and will be scored out of three – again like Angry Birds – according to the number of orbs they collect and how fast they manage it. Unfortunately a pinch zoom feature was missing on the preview version – which would have made previewing levels much easier. The game is a premium purchase, so players can expect free content updates over the few months following its Fall 2013 release on iOS and Android (no Windows release is planned as of yet).
Trials Frontier:
Unfortunately Trials Fusion was missing from the show, but we did get to play Trials Frontier – its little offspring. The game has a Wild West, old country style, but is strangely set one hundred years after the events of the futuristic Trials Fusion. This suggests that the players are in a brave new Frontier, following on from some happy apocalyptic event where life seems to have regressed. The game was developed alongside Fusion by the team behind MotoHeroz, and as such displays a slightly more cartoony, stylised aesthetic – reflecting a nicer, simpler setting.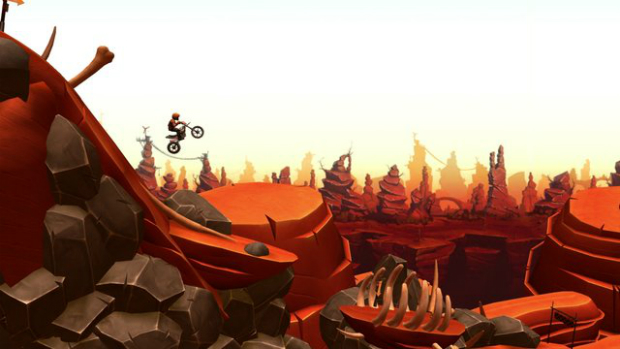 However, the gameplay is typical Trials fare. Players have to precisely control their bikes through increasingly-difficult stages. As you progress through the story mode, you will find out more about the characters and the situation, but more importantly you will earn upgrades for your bike – which are sorely needed to progress past harder stages. You could buy in-app purchases to make his quicker and easier, but the developers stress that the game is fully playable without this factor, and it will simply speed things up. You will need to balance your cash in-game with your gas – which can also be bought, but will re-fill as time passes. Multiplayer is handled in the traditional Trials way, with Leaderboards and Ghost riders, as players work to beat the top scores of others. The game is due to release alongside Fusion on iOS and Android.
Tom Clancy's Endwar Online:
Finally, we got to go hands-on with the new browser-based online version of Tom Clancy's Endwar. The game is still very much the same real-time strategy title as was seen on consoles but Ubisoft wanted to take advantage of the greater connectivity offered via home computers. Set in 2030, the world has been ravaged by war and famous cities lie in ruins. As a leader, you must re-build and recruit an army, by using the nine classes of heroes featured in the game. They each represent a different type of military unit, and each individual hero will have slightly different special abilities.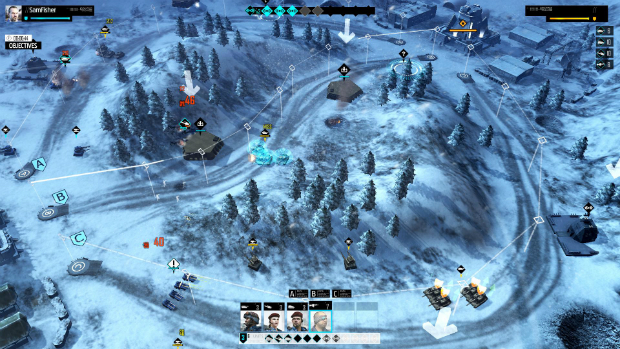 The campaign mode sees the world split up by war, and you choose to play for a particular faction, entering short online battles. For quick, jump-in, jump-out action in the browser, all skirmishes will last no more than around three minutes; as opposed to the thirty minute battles on the original Endwar. Smaller maps and less objectives allow the battles to get right into the action, offering small chunks of quick, action-packed gameplay. Of course there is PvP too, and different countries across the world will be contested over thirty-day periods by players all around the world – seeing which forces won the most battles at the end of that month in order to determine who won the contest.
Although on the surface it looked very familiar, but the changes to the structure of the game sound like they will shake up the play quite a lot. The new features and modes added look like they will make the game more compelling and competitive, and are looking to build a stronger community for the game, which should launch early next year.