We recently reviewed the iRig Mic from IK Multimedia, which is an external hand-held microphone accessory and works great for on-screen interviews and such. So we decided to take a look at the iRig Mic Cast, which is also designed with Smartphones in mind, but is more of an attachment than an external microphone.
The iRig Mic Cast clips into your mobile phone via the audio jack, and effectively replaces your phone's microphone. The Cast mic is of a much higher quality than your average Smartphone mic, which is usually designed for up-close voice detection (primarily for phonecalls), whereas the iRig Mic Cast is designed to turn your phone into a dictaphone, of sorts.
There are a couple of gain options on the front, Lo or Hi, which will dramatically change the audio reception. IK Multimedia do provide free voice recording software for iOs and Android, but their microphones work just as great with any other voice recording software you may already have on your phone. There's also a really handy headphone port on the side of the Cast mic, so you don't lose the only audio port on your phone.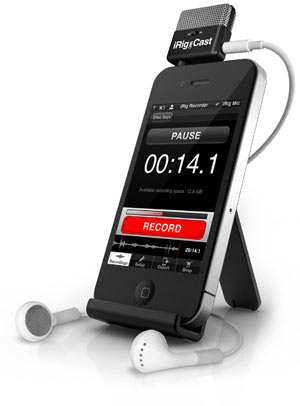 With the iRig Mic Cast being so small, it's the ideal portable solution for those situations where you may need to record some audio on-the-fly, without the want or need for any external devices. For example, University lectures, journalistic interviews, or even conference meetings. The mic comes with a really handy phone-stand, too – so you can pull out your phone, pop it on the stand and plug in the iRig Mic Cast attachment, open up your favourite recording software and you're good to go. It's that simple!
Features:
Features a stereo mini-jack headphone output enabling real-time monitoring of what is being recorded using headphones or speakers.
Offers a mini-switch that provides two different sensitivity settings to record close-up or distant sources.
Includes an adjustable desktop stand for convenient iPhone/iPod touch positioning during recording.
Has a bumper-friendly mini-jack connector that fits the majority of iPhone/iPod touch cases.
Has an ultra-compact profile that can be carried anywhere with ease.
Like other IK Multimedia microphones, it includes 2 free apps: iRig Recorder, an easy-to-use voice recording/editing app, and VocaLive, a multi-effects processing app for singers.
Works with all regular phone calls and any Voice-Over-IP app.
Is compatible with iPhone/iPod touch/iPad.