Xbox 360 Slim UK Trade-in Options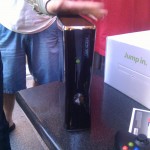 Game have announced their trade-in options for the launch of the Xbox 360 Slim, for those of you wanting to part-exchange an old console for this shiny new beast.
Here's what you have to pay if you trade in the following models;
Xbox 360 Elite £99.99
Xbox 360 60GB Pro £119.99
Xbox 360 20GB Pro £139.99
PS3 Slim 120GB £24.99
PS3 80GB £59.99
PS3 40GB £69.99
Nintendo Wii £124.99
The Xbox 360 S is available right now in the US, but will be available here in the UK on 16th July. Head over to Game for more info.