Rockstar Announce L.A. Noire OST And Remix Albums

If you're an avid collector of movie/game soundtracks and can't wait for the release of L.A. Noire then good news, as Rockstar today have announced the official soundtrack and remix albums. Inspired by the era which the game is set in, and recorded at the famous Abbey Road, the albums feature classic jazz tracks with a modern twist, as well as a full orchestra and mixes from top DJ's and producers.
The L.A. Noire Official Soundtrack was inspired by the sweeping orchestral scores of the great films of the 1940s. This all-original score was recorded in London's legendary Abbey Road Studios and composed by Andrew Hale, of the band Sade and Sweetback and whose credits include scores for such films as Scott Pilgrim vs. the World.
The soundtrack also features modern takes on the classic torch songs of the period. Three original vocal recordings were created for the soundtrack, all produced and written by Stephen Coates (of The Real Tuesday Weld) and featuring the guest vocals of Claudia Brucken (of Propaganda). Additional music was composed for the score by Woody Jackson, who won multiple awards for his work with Bill Elm on the original score of Red Dead Redemption.
Players will also hear over 30 classic licensed jazz tracks in the game itself, including songs from such greats as Billie Holiday, Dizzy Gillespie, Ella Fitzgerald, Louis Armstrong and Thelonious Monk.
L.A. Noire Remixed is the fruit of a partnership with Verve Records that provides a modern take on the music found throughout the world of L.A. Noire. This unique EP is a collection of six jazz standards re-interpreted by some of today's most acclaimed DJs, producers and remixers, including Dave Sitek, DJ Premier and Truth & Soul.
This fantastic music will be available to purchase from iTunes on 17th May so stop waving those jazz hands and get your pre orders in!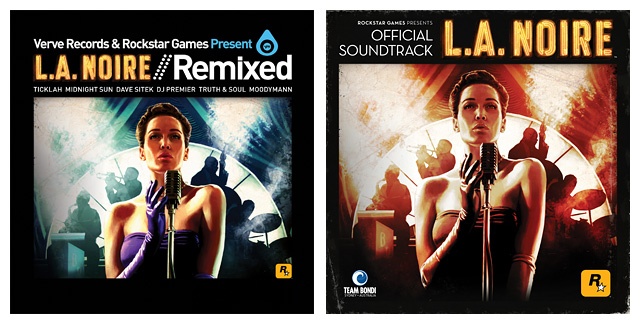 L.A. Noire is available to purchase on 20th May.