Calibur11's Gears of War Vault is Available Now!
Did you read our very own Adam Cook's review of Gears of War 3? Are you just about as excited as everybody else in the world right now about the final instalment of the Gears of War franchise? Do you think that your console should look suitable enough to play such an Epic game (see what I did there?)
Calibur11 think so too.
Partnering with Epic Games, one of the premier videogame developers in the world, Calibur11 today releases an exclusive Gears of War 3 Vault just ahead of the widely acclaimed game which hits the UK shores next Tuesday, the Gears of War 3 Vault is a high-end, interactive case for the Xbox 360 Slim that features a high-definition "Bleed-Out" finish, controller cradle and an LED Crimson Omen that glows red every time a player is downed by an opponent. Whilst offering better airflow and stability, the Vault will not void the Xbox 360 Slim factory warranty.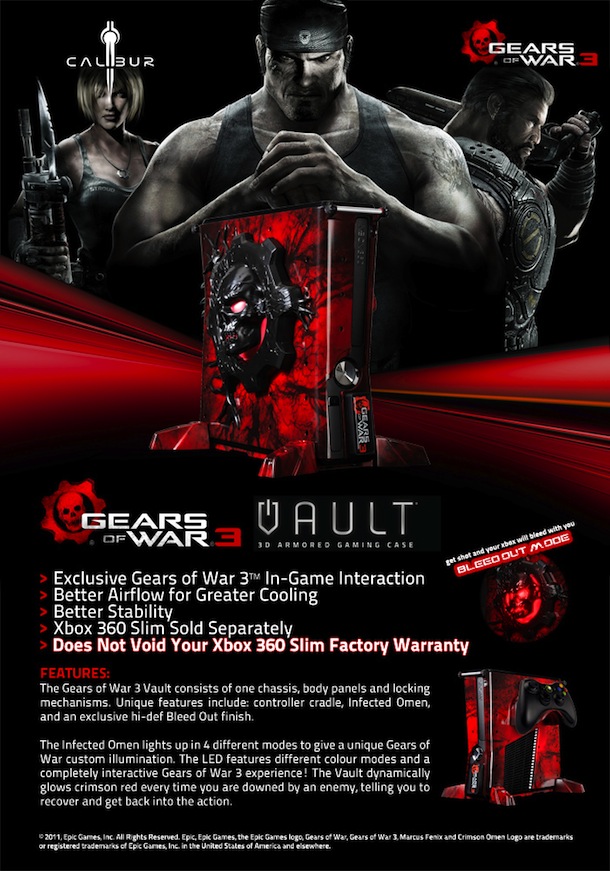 Calibur11's Gears of War 3 Vault for Xbox 360 Slim is available from all good videogame retailers right now for a suggested retail price of £69.99. Customized nameplates will carry a suggested retail price of £17.99.