Gears of War 3 DLC Will Allow You to Play as General RAAM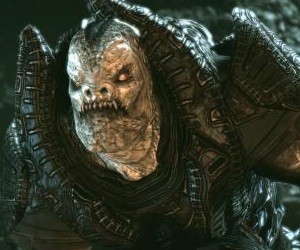 Back before Gears of War 3 was released, Microsoft announced the Season Pass which would allow you to pre-purchase all the forthcoming downloadable content for the title. The first pack announced was the Horde Command Pack (coming November 1st) which would give the people who purchased the content some new Horde maps and fortifications.
The second DLC addon has now been announced as well, and will be called "RAAM's Shadow", and is sure to excite fans of Gears of War 3 everywhere.
RAAM's Shadow will give player "more than three hours" of single player content, which pre-dates the events of even the first Gears of War title. Zeta squad is tasked with evacuating Ilima City and protecting the civilians from a Kryll storm. If you remember correctly, with Kryll comes RAAM, and that means trouble. The best thing about this DLC though? You get to play as RAAM, which sounds like amazing fun to us.
"RAAM's imposing size and strength, along with his Kryll shield, make him one of the most powerful and daunting foes in the 'Gears' universe," said Bleszinski. "We think fans are going to have a blast unleashing hell upon the poor humans for the first time in a campaign setting."
On top of all that, you'll also be getting 250 new achievement points to unlock, and the "chocolate" weapon pack.
This DLC will be released on December 13th for 1200 Microsoft Points and we can tell you, we're in day one for this! Are you going to be stepping into RAAM's shoes in December? Let us know in the comments below.
RAAM's Shadow will be available for 1200 Microsoft Points on December 13th. Gears of War 3 is available now exclusively for Xbox 360, we scored the game a stunning 10 out of 10 in our review.