Return to the World of Dungeon Siege III with Treasures of the Sun Expansion
Dungeon Siege III came out earlier this year to very little fanfare and, unless you watched the TV show Spartacus: Gods of the Arena, you probably saw very little advertising about it. Nevertheless it's a cracking little title that we reviewed here at GodisaGeek.com. Now, Dungeon Siege III players can expand that experience with a brand new piece of downloadable content. This new DLC, titled 'Treasures of the Sun' allows players to explore the new lands of the Aranoi Desert, venturing out of the relative comfort zone of the land of Ehb.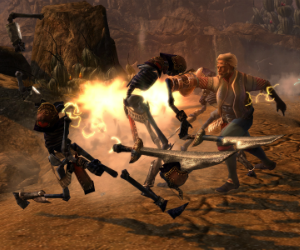 As if the characters didn't have enough to worry about, now that they've been sent through the Aranoi Desert in search of a lost Legion member, they've got to contend with all new enemies, ones that haven't been seen before by neither the characters nor the player. Not everything is in vain, however, they do manage to find a long forgotten abbey, one hiding a long-lost treasure; the greatest treasure of the Azunite faith.
Features of the new expansion, Treasures of the Sun, are as follows:
New abilities: Players are now able to attain mastery of the arcane through powerful new attack, defence and healing abilities.
Level up to 35: Dungeon Siege III: Treasures of the Sun raises Dungeon Siege III's existing level cap from 30 to 35.
More monsters and items: Players will encounter new monsters in the Aranoi Desert—including mummies and giant skeletons—and will find more powerful items, adding to the thousands already available in Dungeon Siege III.
Reallocate Talent & Proficiency Points: Players can reallocate points spent in Proficiencies and Talents, enabling changes to character customization throughout the campaign.
New Enchanting System: Transmuting items now gives players chances at gaining powerful new Vials that allow them to enhance their weapons and armour through the DLC's new enchanting system.
[nggallery id=634]
Dungeon Siege III's new expansion, Treasures of the Sun, is available right now on Steam, PlayStation 3 and Xbox 360 and priced at a modest £7.99 ($9.99) on Steam and the PlayStation Store and 800 Microsoft Point from the Xbox LIVE Marketplace.
Will you be getting the new expansion for Dungeon Siege III? Did you enjoy the original game? Let us know in the comments below.