Worms: Crazy Golf Review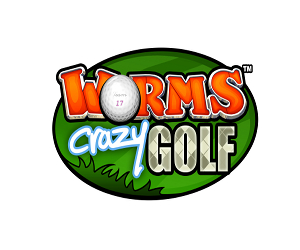 Game: Worms: Crazy Golf
Developer: Team 17
Publisher: Team 17
Available: PlayStation Network, PC and iOS (Reviewed on PlayStation Network)
Team 17 are one of the great survivors of videogaming. There aren't many firms that have been around as long as they have, let alone consistently producing enjoyable games, that still manage to sell by the truckload. In existence since 1987, they made their name with a succession of much-loved classics for the Commodore Amiga, such as top-down, Gauntlet-style shooter Alien Breed and Lucozade guzzling platformer Superfrog. Whilst the rest of the world were starting to get excited about emerging 32 bit consoles like the PlayStation and Saturn, the West Yorkshire based team really hit paydirt with their 1995 turn based artillery face-off, Worms. Initially released on the Amiga, it was so well received that it was later ported to a multitude of platforms. With a wonderful sense of humour, excellent 2D graphics and compulsive gameplay, Worms went on to spawn several sequels and has to date shifted millions of units to fans of invertebrate bloodlust worldwide.
There have been several spin-offs from the main franchise, taking in excursions into 3D, pinball, puzzle games and even a Breakout/Arkanoid variant. It is fair to say that these side offerings have not always set the gaming world on fire. Which is why we enter into the world of Worms: Crazy Golf with a little trepidation. Can Team 17 translate the humour and charm of their flagship series to a fun take on golf?
We need not have worried about a thing. Worms: Crazy Golf wins the gamer over instantly with simple to pick up gameplay, quality aesthetics and big value for money. What you get for your very reasonable price is an approximation of golf, starring the maniacal pink worms you know and love, attempting to guide the ball into the cup across some gorgeous looking, undeniably Worms-like 2D courses. Like a proper game of golf, the aim is to putt the ball in as few strokes as possible. The difference here is that unlike the type of course you would find Tiger Woods playing on, the Worms golfing environments are littered with some crazy traps, obstacles and pitfalls. Sure, there are still traditional sand-filled bunkers, and areas of rough, but there are also exploding sheep, teleporters, and giant magnets to contend with.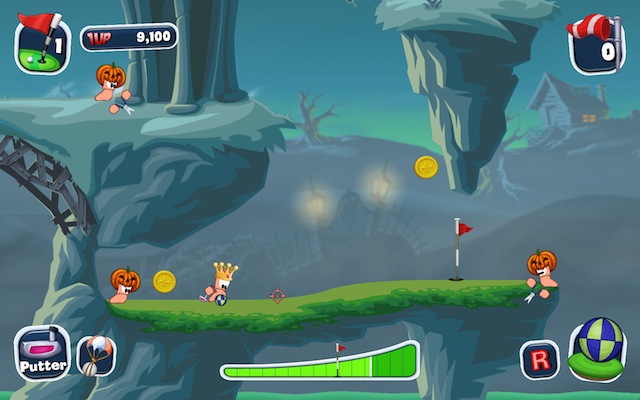 Getting the ball into the hole can be pretty simple, in fact within half an hour of playing I had racked up Trophies for nailing an Eagle, an Albatross and even the Holy Grail of golf, the Hole In One. Going around the course within the confines of par is easy enough, but the real meat of the game comes from hitting the ball at the collectable coins and wooden crates that litter each of the courses. Coins are placed in all manner of tricky places, and serve as the in-game currency, used to buy unlockable content such as costumes, clubs and balls to customise your worm golfer. Crates contain new upgrades that are added to the shop. There is also a skill Score for each hole, which is racked up depending on factors such as the number of items you collect, the time taken to sink the ball, and how many strokes you take to do so. It doesn't take long before you become obsessed with collecting every last item on each hole and achieving high scores (which can be uploaded to online leaderboards); it is compulsive stuff indeed.
Controlling Worms: Crazy Golf is straightforward, you aim the ball much in the same manner as you would aim weaponry in a standard Worms game, and shots are controlled by holding down the X button until you reach your desired point on the power bar. Those more familiar with playing golf games have the option to change the way you take your shot to a more familiar Everybody's Golf-style method whereby you press the button once to begin the shot and again once the slider reaches the necessary mark on the bar. Once you have cracked the ball towards your intended target, rotating the left analogue stick controls spin, an excellent mechanic which can be used to pull off some wild shots, or reach tricky to get items. Changing clubs is as easy as pressing square to call up a menu, although the game will assist you by selecting what it thinks is the most appropriate club for your given situation.
The further you progress through the game, the more tricked-out your Worm becomes, acquiring extra tools of crazy golf wizardry, like a stopwatch that slows time, or jet propulsion to make the ball bounce higher. The unlockable clubs and balls also have different effects during gameplay, and there are certain coins and crates that you won't be able to reach initially until you have the right gear.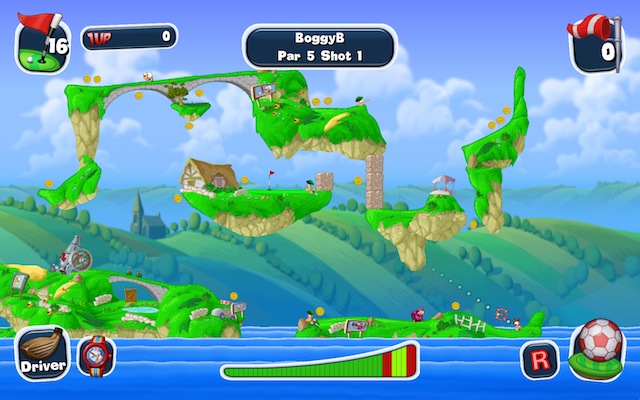 There are three courses on offer, each with 18 holes to complete, and a ton of collectables and cool things to unlock. Your worm is fully customisable, with a selection of bonkers outfits and golfing periphery. There are incredibly fun challenge courses which require you to fulfil certain conditions, such as destroying a herd of sheep against the clock to achieve the highest possible score. The single player mode is also complemented with a multiplayer mode that allows you to play against up to three mates passing around one controller. It is an absolute hoot playing with others, although there is no option to do this online.
Being a Worms game, this looks and sounds fantastic. There is plenty of cutesy speech and some pleasant, unobtrusive music. The environments are lovingly drawn, ranging from pastoral greenery to spooky pirate caverns, and the worms themselves, and their on-course foes, are beautifully animated. I particularly loved the way that exploding sheep dissipate into a cloud of tiny lamb chops.
VERDICT: The package is full of content with the promise of more to download in future, and represents excellent value. As a single player experience, you will find yourself obsessing over the coins and crates needed to upgrade your avatar, but it is no tiresome grind, the game is so much fun you can while away a good few hours before you know it. Playing with mates has the potential for hours of post-pub shenanigans. A triumph of total golf wormage, at a bargain price.