Planetside 2 Fans, Choose Your Faction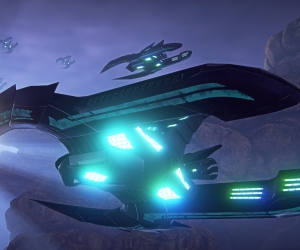 The sequel to MMO/FPS hybrid Planetside is nigh, and Sony Online Entertainment have released a trailer, showing the three main factions in the game.
The three factions revealed, consist of the Vanu Sovereignty, New Conglomerate, and the Terran Republic. Players will pledge their allegience to one of these empires, fighting to take hold of various territories within the world of Auraxis.
PlanetSide 2 features all manner of MMO goodies, including a Free-Form Class-Based Skill Tree system, a mission system that is driven by both Sony Online Entertainment, and the game's players themselves. There are also various customisation opportunities, including Guild outfits, weapons, vehicles and player abilities.
With the game promising massive maps, huge battles and fast-paced FPS action; PlanetSide 2 looks to be an interesting diversion from the average MMO. Beta signups have begun at the game's official site, ready for a launch in 2012. A Free-To-Play model has been touted, but what form this will take has yet to be disclosed.