Fate of the World is Eco-friendly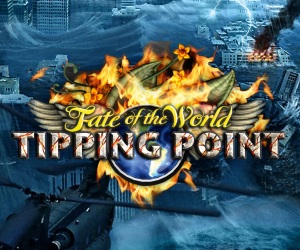 Despite all the damage ecologists say the human race cause through pollution; we're doing a lot better than we were fifty years ago. Scientists are continuously looking for ways to preserve the environment, whether it's through technological advances or sourcing alternative, more eco-friendly methods. Today, we recycle more than ever, our cars give off less toxic fumes, we've cut back on smoking, and energy reserves are much more considerate of our natural habitat.
With such big changes around us, we sometimes forget the simple differences that also affect our day to day life, such as recycled packaging. With the upcoming release of Fate of the World – Tipping Point, an eco-simulator in its own right, that's exactly what Lace Mamba Global have done. When the game launches, the boxed copy of the game will be shipped in a DVD box made from recycled plastics. The box remains fully recyclable and stable during its normal life, but is biodegradable, when placed in the soil or landfill, where it comes into contact with micro-organisms and other biodegrading material. What's more, through the addition of a proprietary mixture of compounds, the BioBox attracts and provides microbes with a food source, leading to a 100 times faster degradation rate, when in landfill conditions. Regular recycling methods can still be applied as well. How appropriate.
Additionally, all the paper and manuals contained within will be printed on paper made from responsibly forested and mixed sources, certified by the Forest Stewardship Council (FSC). These papers come from sources like recycled/post-consumer reclaimed material; timber from FSC certified forests and controlled sources, making sure unacceptable forestry is excluded. FSC provides global standards for forest management which cover a balance of environmental, social and economic aspects. Under these standards, the wellbeing of forest communities and ecosystems is as important as replacing trees in ensuring the future of the world's forests.
It's fair to say Lace Mamba Global have put a lot of thought into this, and are clearly in tune with the message Fate of the World – Tipping Point is trying to convey.
Fate of the World is a global strategy game that puts the responsibility of the Earth's future into player's hands; no pressure, then. The player will be tasked with preserving Earth's resources and climate, plus managing the needs of an ever-growing population, taking into account food, water and living space. All of this must be juggled, whilst contending against scenarios based on the latest science and climate models researched by Oxford University.
The future of education is seemingly just around the corner. Fate of the World – Tipping Point releases January 27th 2012.