It's that time of the week again, and by "that time of the week" I mean the beginning. If you're stopping off at GodisaGeek.com this fine Monday afternoon then, first of all, thanks for visiting. I hope you like your stay. How about playing some games in our new 'Play Now' section. How about some games that you can take with you? Providing you've got an iOS device of course. This week we've got some games from Chillingo in the form of Let Me Out, an addictive little puzzle game very much in the same vein as Little Lost Chick from a few weeks ago, and Stretched, a game that feels a lot like a mix between World of Goo and Contre Jour. We've also got Blast Aliens, which is a cowboy styled shootout game, with aliens! Finally we've got Home Sheep Home 2, a game part created by Aardman Animation and starring their very own Shawn the Sheep.
That should be enough games to keep you going for another week.
Titles are available on iPhone and iPad unless specifically stated otherwise. If you like what you read, click the small black "App Store" button to load iTunes up and purchase the title!

BLAST ALIENS:
There aren't many games on the iOS App Store that allow players to shoot other players in the face for the potential to earn lots of points. There have been a couple of first person shooters, maybe a few third person shooters, but that's about it, I don't recall any of them being all about how quickly you can pull off that famous headshot you've been bragging about for all these years. Blast Aliens is a game that aims (see what I did there?) to change all that. Developed by Owzom Blast Aliens pits you against other players from around the world – as well as A.I. characters – and challenges you both to the same task: take down your opponent. Simple really, but does the simplicity take away from the game experience or add to it?
The gameplay revolves around a simple 'quick-draw' scenario, two players are placed into the scene and are both told to kill the other player, the winner is the first person to bring their opponent down. In order to do this the player must use a combination of tilting the iDevice, which will move the crosshair around the screen, and tapping the screen, which will fire off a shot. It sounds easy at first but when you start playing you will quickly realise that trying to keep your aim on your opponent -who will be constantly moving – while tapping the screen, is extremely difficult and takes great skill and dexterity to master. This adds to the fun of the game on the whole and will almost guarantee repeat plays as players attempt to outdo themselves time and again.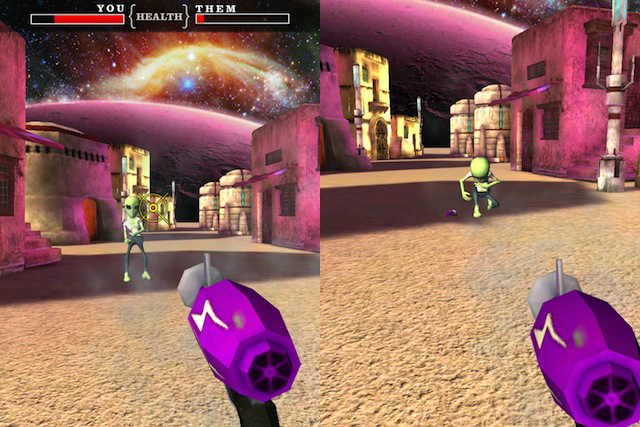 One of the major downsides of Blast Alien is the fact that it forces the player to play with their iDevice in its portrait orientation. Past experience has taught most players that this is the most uncomfortable ways to play games unless there's a specific need for the game to be in that orientation from the gameplay. With Blast Aliens it's not at all clear why the player has to play the game in portrait mode and isn't given the option to play it in any other way. This little niggle won't ruin your enjoyment of the game but it's something worth mentioning, especially when it comes to the bulky nature of the iPad.
If you're looking for a game that's a little bit different than most of the games that you'll find on the iOS App Store then Blast Aliens is at least worth a go. It might not look like much when you first launch the game, the graphics aren't the best in the world and the menu can be downright annoying to navigate, but once you get a hang of the controls you'll find yourself succumbing to the "just one more go" mentality that's usually reserved for some of the most addictive games on the market. Blast Aliens is a game that tries to do something different and succeeds. If you're at all curious about it then download it and give it a go yourself, chances are you won't be disappointed.


HOME SHEEP HOME 2:
If you're my age or older then the chances are quite good that you grew up watching the Aardman Animation short films such as the Wallace & Gromit films, Creature Comforts and so forth. If you're a little bit younger then perhaps you're more familiar with their films like Chicken Run, Flushed Away and the Shawn the Sheep TV show. Either way you'll be well versed in the animation style that we've come to expect from the Aardman guys, whether that's in their native claymation style or their hand-drawn pencil style. You'll also know very well who Shawn the Sheep is having come across him in his own TV show with his friends or on his own in the third Wallace & Gromit film, A Close Shave. Home Sheep Home 2, developed by Mobile Pie, is a game about that ever resilient sheep himself. Can Shawn do any wrong?
Home Sheep Home 2 is a physics based 2D puzzle game featuring Shawn the Sheep himself and two of his friends that viewers of the TV show will recognise, Shirley and Timmy. All three of the sheep have their own characteristics and properties which means that the player will often have to solve a puzzle in a very specific way in order to get to the end with all three sheep; which is how the level is completed. Shirley is the heaviest of all the sheep and, as such, can move the heavy objects that sometimes litter the levels. Shawn is the most agile, being able to jump the highest and furthest as well as being able to move the quickest. Lastly there's little Timmy who is also a relatively quick mover (compared to Shirley anyway) but is also small enough to squeeze through even the smallest of gaps.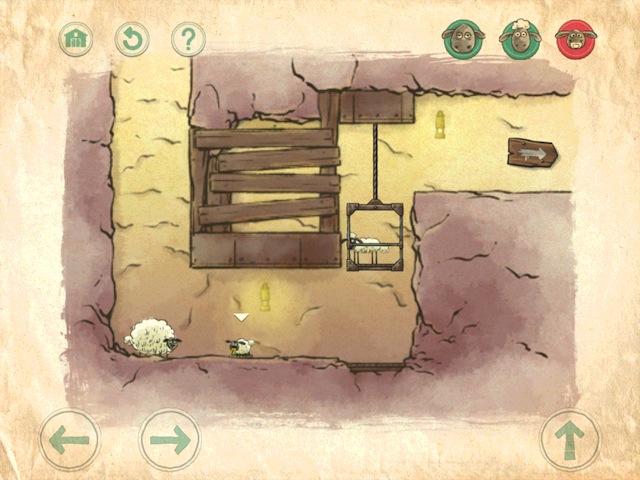 Players will use all of the characteristics of each of the sheep in order to complete all of the extremely well made puzzles that make up the game. Players will have to navigate water and other traps in order to get to buttons, switches and other devices to get to the end of the level. Home Sheep Home would be one of the greatest puzzle games on the iDevices if it wasn't for one thing; it crashes…a lot. Players who are playing on the original iPad will find their game crashing on a fairly regular basis forcing them to repeat levels that they've already completed. This issue can be lessened by restarting the iPad and clearing the RAM but this is only a workaround and I hope that Mobile Pie release a fix to rectify the problem soon. That being said, as it seems to be a memory/RAM problem, I'm sure that those lucky people using the iPad 2, with its increased RAM size, won't see these problems.
Home Sheep Home 2 is an excellent puzzle game and something that fans of Aardman's art style, and especially fans of the Shawn the Sheep character, should be getting. The gameplay is fun and addictive and the visuals, being almost hand drawn, give the player something nice to look at too. A lot of people may not even know that a Shawn the Sheep puzzle game even exists – the name certainly doesn't give it away – but now you do and you can get downloading straight away, especially if you've got an iPad 2. Despite how good the game is, it can only be enjoyed properly if it doesn't crash too often, especially considering that it crashes at the end of levels but fails to save the completion of the level, forcing players to play entire levels again. If you've got the original iPad then I'd recommend you leave Home Sheep Home 2 for now but download it the moment it's patched.


LET ME OUT:
For most people, when they see the word "Chillingo" associated with a game there's a sense of excitement, you're more or less guaranteed a game that will be worth every penny that you've paid for it. It will have gone through rigorous testing, gameplay tweaks and other hurdles in order to get the Chillingo seal of approval. When Let Me Out, developed by Poppia is first launched you'll see the familiar Chillingo logo, you'll watch the intro video and you'll find yourself prepared to get lost in yet another addictive puzzle game from the mobile publishing giants. Is it all worth it though? Let's find out shall we?
Just like with the vast majority of puzzle games that are available on the iOS devices, when you first start the main game mode you'll be greeted with a grid of locked levels; this will be nothing new to most players. Starting the first level and players will instantly be able to see what's required of them, get the main character into the little swirling vortex in order to complete the level. Sounds simple enough right? Well, it is to begin with at least. Soon enough however, you'll start coming across obstacles such as gaps in the environment, electricity barriers among other things that will blight your path. The main aim of the game being to figure out exactly how you're going to complete the level with the tools provided; which sometimes isn't all that much.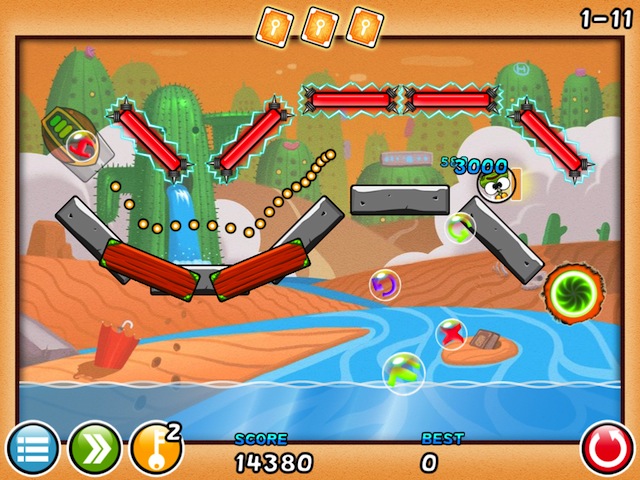 There are plenty of achievements associated with the game, as most players will have come to expect from a game that has the Crystal service embedded within it. Share your score with your friends, beat their score or just get more achievements than them, you can do whatever you want. Another nice little addition to the title is the ability to collect letters. Basically, throughout each of the levels are letters that are constantly floating upwards. Collect these letters and you'll be awarded with a nice little point bonus that goes towards your current high score as well as adding that letter to your collection that can be viewed from the main menu. Collecting all of the letters isn't really something that players need to do but for those people who want an excuse to keep playing the game even after they've completed all the levels that are currently available it's a nice little added extra.
The controls in Let Me Out are extremely easy to use, simply set everything up in the scene in the positions that you think will solve the puzzle by dragging and dropping most of the items using your finger then when everything is in the right position (or you think it's in the right position) just tap on the little launcher and watch everything fly, hopefully into the swirling vortex that's waiting. If things go wrong then you can either wait for the game to realise and restart itself or just tap the restart button in the settings and have another go. It couldn't be simpler.
With Let Me Out you're getting a quality game from some quality developers, it can take a little while to get used to at first, and the main character looks suspiciously like Om Nom from Cut The Rope, but once you've got the basics down there'll be no stopping most people. The puzzles themselves are addictive and easy to come back to and the visuals are very pleasing to the eye, being comprised of very bright colours displayed in crisp, high definition pixels. If you're looking for a new puzzle game to play on the way to work, school or just something to do before bed then Let Me Out is the perfect game for you.


STRETCHED:
There's no shortage of puzzle games for the iOS devices, they're almost literally everywhere you look, but there is a reason for that; they're perfectly suited for the touch interface. You'll very rarely find a puzzle game that has on screen analog sticks or any other method of controlling it other than directly interacting with the environment using your finger. Chillingo know exactly what it takes to make a top notch puzzle game, having published a plethora of them before now, and no doubt they had a hand in steering Gamez Gear, the developers of Stretched, towards their goal during the creation process. It's not difficult at all to see that level of input at work from the moment you start the game up for the first time.
The gameplay in Stretched involves the player using various contraptions – mostly devices resembling slingshots – to get the main character (who, in this case, is a little baseball with eyes!) to bounce into a special bubble. In order to do this the player must utilise the slingshots in such a way as to navigate the environment without falling, as falling will cause the player to fail the level. Things are made a little bit easier with the use of a dotted line that will show the player the trajectory that the ball will take if the player lets go of the slingshot at the specific moment, helping them judge whether or not they're going to be able to land a transfer from one slingshot to another. This is only a guide though, it doesn't take into account any obstacles that may hinder your path so players will have to be careful about using it.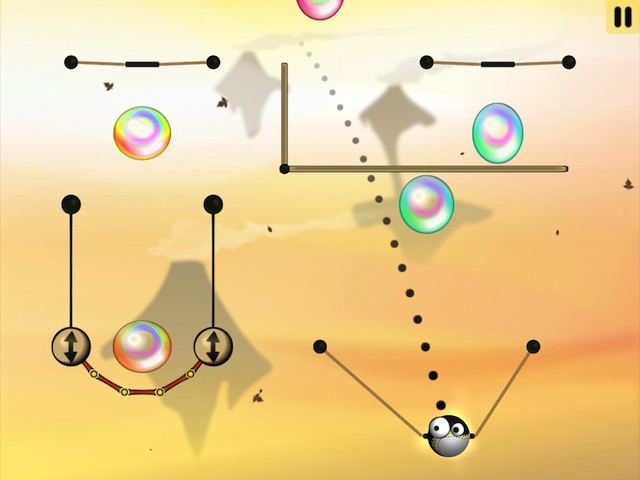 As with most other puzzle games, each area is divided up into separate levels which are in turn divided up into how many stars can be collected during the level. Simply finish the level without collecting any of the additional bubbles that scatter the levels and you'll be awarded with a single star, grab 50% of the bubbles and make your way to the finishing bubble and you'll get two shiny stars. Get all of the bubbles however, and you'll be awarded with all three stars and you'll be able to move on to the next level knowing that you did everything you could possibly have done in that level. Perfect for the completionist gamer.
The controls in Stretched are extremely easy to use, as you would expect from a casual puzzle game on the iDevices, all the player has to do is use a single finger to interact with the screen, more often than not to pull back a slingshot. The vast majority of people won't have any problems at all getting to grips with the controls, even people who don't play games all that often. Stretched is also extremely pleasing on the eye with everything being modelled in 3D and then having a shader applied to them in order to give it that cel-shaded look that a lot of people have come to love over the past couple of years.
If you're a fan of puzzle games in general then you should at least give Stretched a go, it's not as good as some of the more popular games from the genre that are available on the iOS App Store but it's certainly a good attempt. Stretched is a good looking, easy to play and enjoyable puzzle that's well worth anyone's time if their looking for something to tide them over until the next big puzzle game hits the market.