Naval War: Arctic Circle Video Developer Diary Released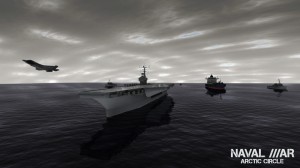 The first video developer diary for Turbo Tape Games' upcoming strategy game Naval War: Arctic Circle is now online. The development team shares their vision of a seamless ocean span where modern warships battle for control of precious natural resources.
The game posits that in 20 years civilisation is still reliant on petroleum, but the easily accessible land-based oil reserves are dwindling rapidly. The nations of the far north struggle to harness the rich untapped wells of the Arctic Circle and will go to war to guarantee control of the oil.
In the developer video below the development team explain how this wide geographic expanse guarantees infinite replayability as you take sides in war that is all too easy to imagine.
Naval War: Arctic Circle is set to release in Q2 2012 for a suggested retail price of $29.99/€29.99.