Skullgirls Preview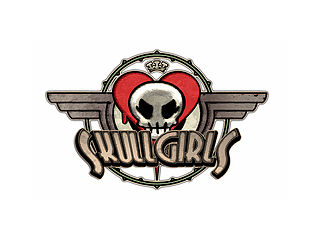 Whilst there are many words that make up what video games should be, 'depth' is probably one of the most important. Maintaining a high amount of detail, care and attention all under one simple term means that "depth" is a number one priority for developers when creating games. Having had the chance to preview some heavy hitters coming in the next few months/year such as Metal gear Solid 3D and Guild wars 2, I find it's something that was lacking in these AAA titles.
Whilst the games weren't necessarily bad, there were certain elements to the games that were missing, be them console limitations or genre discrepancies. As such, on the way to try Skullgirls, the latest 2D fighter in development, I told myself to be ready for the small nuances that make the previews fun, yet annoying. Those small parts that on their own, wouldn't make much difference, but piled together certainly shows the lack of depth in a title.So it was an incredible shock when I picked up the controller and was lost in a world of absolute wonder for 2 hours straight.
Let me be clear, Skullgirls is a game that has depth, to a point that I'm pretty sure the pit is bottomless. The amount of care and affection that has gone into creating this game is seen from the get go. A clean, smooth menu with a Hollywood feel greeted me into the game, with each option clearly, and beautifully, labelled.
The menu continued being gorgeous as we flicked onto the character selection screen, each avatar of the selectable ladies positioned in a square, and three pedestals on each players side. "Three, you say?" Three indeed. Skullgirls allows you to chose the amount of characters you want to use, a single, powerful character; two less powerful characters or three even less powerful characters. This leaves players choosing between Power and Stamina, combos within one character or several.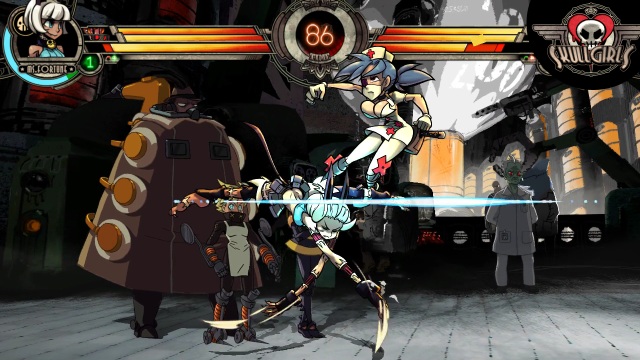 However it's when actually playing the game you really get to see much of the love, albeit a slightly disturbing love. From the get go, each character has its unique style, a certain way of fighting that makes them stand out from the crowd. One lady, Painwheel, uses her bones and mutilated body to bring the pain, while Parasoul relies on gadgets and bombs for a tactical style of play.
Whilst not an avid fighting fan myself, as such I couldn't perform the more advanced moves without a bit of practice, however Skullgirls understood that. Instead of penalising me for not being able to perfectly execute quick hand gestures, I could play at my own pace and was met with an enjoyable and unrepetetive experience. This is because Skullgirls doesn't ignore its genre. It doesn't use it purely as a device to categorise itself, but takes onboard everything the genre comes with, including new, or inexperienced players, and shows them how to play. To further this is an extensive tutorial system, that unlike many heavy hitters within the genre, such as Tekken and Super Street Fighter's mid-game, 'hit these buttons' tutorials, Skullgirls takes you through many lessons, starting from simple jumping and attacking, all the way through to performing huge combos and pulling of super attacks. Skullgirls takes its time to make sure everyone is on a similar footing before plunging them into the thick of battles.
Whilst I didn't get to see it, the game will be coming with a story mode which will revolve around each characters journey to receive the elusive Skull Heart and avoid the Skullgirl, a terrible force that consumes a person after attempting to use the Skull Heart with an impure soul. Though I didn't see any storyline, the characters each had a story to tell, purely through how they looked and the moves they used. Each character holds a certain secret behind them that can only bring video game gold when tackled through story lines.The style of the game is fresh and different, with detailed backgrounds (one including a scenic neighborhood which had each developer and their pets) and extensive character designs, which is only made more impressive knowing that everything is hand drawn.
With smooth transitions, and the highest framerate possible, the game is a pleasure to just watch, let alone actually play. One small downside, which was pointed out both verbally and visually, is that some things work slightly too fast. Some graphics – Peacock's moves most notably – happen so fast I didn't see the entire effect until it was repeated a few times. Whilst so much effort has gone into these cheeky animations, it's a shame to see them go to waste, therefore hearing that there may be a mode that lets you play all of the characters moves in slow mo is very welcome. To add on top of all the already inviting details the game has to offer, the score, written by Michiru Yamane, best known for composing music for Castlevania: Symphonia of the Night, just adds the icing to an unfinished cake. Each stage having a piece that keeps the mood perfectly.
It's not often that I get to say this, but Skullgirls has got me incredibly excited. And I'm not even someone who reaches for the fighting games (apart from the 3DS launch, for the lack of anything better). Playing Skullgirls made me want to have it then and there. I still do in fact, and the wait, with an undetermined date of release, it's killing me, and I only had a couple hours with it.
The game literally has endless combinations and caters to an entire audience rather than specific people. With its anti-abuse built in system, it will be perfect for competitions. Competitions will benefit from this game, in fact, as rather than mastering the game, the game moulds itself to fit you, and as such, you'll never know what you're up against, separating the truly skilled from the ones who have just played a bit too much.
Skullgirls is set to physically define, change and mould the genre, all for the better. I'm surprised this has been allowed to slip through as a Marketplace download rather than hitting our shelves, because it certainly deserves a place next to Dark Souls and Skyrim. In a pool of samey, almost stagnant fighting games, Skullgirls is a fresh blast that takes the categories flaws and throws them away. I can't stress enough that the depth and love that is in this game has no limits. Be ready.
[nggallery id=734]
Skullgirls is set to be available on Xbox LIVE Arcade and PlayStation Network in early 2012. As soon as there's a firm release date you'll hear about it on GodisaGeek.com.