One Million Gamers Sign up for the Guild Wars 2 Closed Beta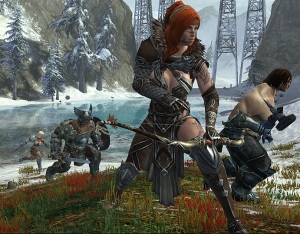 The recent sign up for the next closed beta of the upcoming title Guild Wars 2 has shown quite a response from the gaming community, as NCsoft and AreaNet have announced that the recent sign ups reached an impressive one million in just over 48 hours and at peak periods they were receiving a staggering 4,000 sign ups a minute. With these crazy figures, this innovative RPG and the online world design philosophies of Guild Wars 2 are proving to be what gamers of this genre want.
Therefore it is no surprise that Guild Wars 2, which was awarded as the most anticipated game launching this year by many top gaming outlets from around the world, has attracted gamers from 224 countries spanning all seven continents who want to experience the epic grandeur of a massive role playing environment, combined with innovative combat mechanics, dynamic events and personal storytelling. The Executive Producer and President of AreaNet, Mike O'Brien is clearly happy with this fantastic response as he recently said:
"We built Guild Wars 2 with the notion to bring players together to experience what a true online world experience should be, and we couldn't be more excited with the reception we're receiving from gamers wanting to get in and play our game."
The next closed beta test for Guild Wars 2 is scheduled for late March and will provide gamers with the opportunity to experience it's deep RPG game elements, epic world verses world battles and inviting social gameplay, all the while helping the developers load test their servers ready for the final launch. The final product itself has yet to be given a release date, but be sure to stay tuned to GodisaGeek.com for any further developments. In the meantime however, if you are a massive lover of MMORPG's be sure to listen to Ding!, our podcast with all the latest news and views from the MMORPG world, which is brought to you every Friday by the GodisaGeek Podcast Network.