LittleBigPlanet does Karting, Confirmed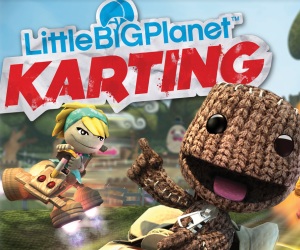 The idea of plonking Mario in a go-kart was, at first, probably seen as an insane concept. Though, surely it isn't any crazier than eating growth-inducing mushrooms, prancing about in a racoon suit or riding around on a flying dinosaur.
Regardless, Mario Kart has become one of the most beloved series in video-game history, and despite it running for well over a decade, Nintendo continue to innovate and refine the experience, creating one exciting instalment after another.
It's a collaboration envied by Nintendo's rivals, as Microsoft, SEGA and Sony have tried to make their own spin on the theme, their efforts paling in comparison.
That, however, may be about to change. Today, Media Molecule, in collaboration with United Front Games, have announced LittleBigPlanet Karting. Heavily rumoured just a few weeks back, the lid has officially been lifted on this PS3 Exclusive, and unsurprisingly, it looks pretty cool.
Presented in typical LBP style, with the 'Play, Create, Share' ethos ever apparent, players will get to join Sackboy and Sackgirl as they adventure through the Craftworld universe in their vroom vroom cars.
Players will be able to race each other in arena-battles, go head-to-head in split screen modes, or play online via PSN. There will also be objective-based mission, and some quirky mini-games to boot.
Of course, the exciting feature about this Kart-Racer has to be the customisation abilities. LBPK is promised to feature a wealth and range of tools to create levels with the same heights of creativity seen in the user-generated levels already associated with the series. Meaning, players will not only be able to create their own tracks, they'll also be able to make their own game rules, and customise their karts, sharing them all over PSN.
While this one sounds quite unique and exciting, I'm a little surprised we didn't get a Vita announcement as well. Surely a title like this would be much better suited to the handheld?
Eh, what do I know. Mario Kart better watch out, as LittleBigPlanet Karting has been given an estimated 2012 release date. Expect to hear more on GodisaGeek very soon, but for now enjoy some screenshots.
[nggallery id=821]