New Trailer for Jeremy McGrath's Offroad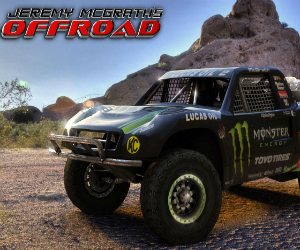 Budget racing titles are a bit of a rarity these days, and to be honest the quality of those that are out there is pretty low. 2XL Games though are set to change that with their fully loaded downloadable racer, Jeremy McGrath's Offroad.
Featuring an impressive line up of vehicles like Race Trucks, Rally Cars, Pro Buggies and Pro Lite Trucks players will be able to compete in both single and mulitplayer action. The singleplayer follows Jeremy's bid for the Pro2 championship within the Lucas Oil Off Road Racing Series. While the multiplayer allows up to 8 players to battle it out for the win.
With dynamic obstacles and destructible environments hopefully tracks will continue to feel fresh and exciting, even after you've ripped them up a good few times. The cars also have an XP leveling system allowing you to increase things like power, braking and handling. To put the icing on the cake the game runs at 60fps in full HD. For the price this game looks to offer racing fans great value for money.
Jeremy McGrath's Offroad will be available soon on both XBL and SEN for 800msp/£6.99/$9.99