Ms. Splosion Man Coming to PC and Mobile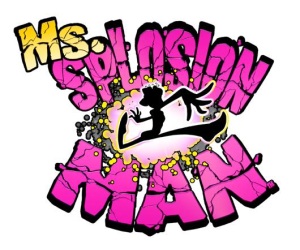 If like me you are a big fan of Twisted Pixel, you may have been wondering what they have been up to. Beavering away on some secret project no doubt. Well, at PAX East they have revealed that Ms. Splosion Man will be coming to PC and mobile.
Despite now being a part of Microsoft, they are still a relatively small studio, so to bring Ms. Splosion Man to Steam, Games for Windows LIVE, Windows Phone 7  and iOS Device (including iPad), they have enlisted the help of Irony Galaxy, Fire Hose and Panic Button Studios.
"We are extremely excited to work with Twisted Pixel in bringing splosions to mobile devices," says Iron Galaxy C.E.Bro, Dave Lang. "Ms. Splosion Man has really deep gameplay that is born from deceptively simple controls, so it's a great game on any platform."
The PC version will include 50 single player and co-op levels, retaining the achievements, four player co-op, ghost replays and other unlockables. The iPhone and iPad version will apparently be a unique experience build just for those particular touch-screen devices, using a new version of the BEARD engine that will look to make the game sing on mobile devices.
"This will be our first mobile game, and only our second Steam game," explains Twisted Pixel's Michael Wilford. "But it's very important to us that we have great content on these high-end platforms, so these new versions are being painstakingly crafted to be as awesome as possible. We're planning a lot of post-launch updates and support to make sure we get it right."
If you are lucky enough to be reading this from PAX East, then head over to the Twisted Pixel booth and get hands on with an early version of the iPad game, don't delay! In the meantime, check out the announcement trailer below, along with the poster for the annoucement. Then, why not check out our special "Splodecast", where we chat to lead audio designer Matt "Chainsaw" Chaney!
[nggallery id=843]
Ms. Splosion Man is available now for Xbox LIVE Arcade, but coming soon to PC and Mobile Devices.