E3 2012: Lace Mamba Delve into the Creepy Story of Lucius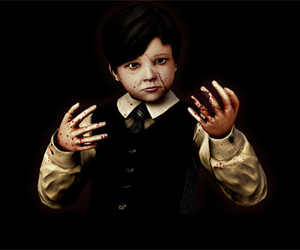 Lace Mamba Global came out at E3 and finally announced an exact release date for their upcoming Horror title Lucius. We already knew the game would be arriving sometime in October, but now the publisher, along with the development team at Shiver Games, have confirmed that it will be available to purchase on October 26th 2012.
Along with that fact, they also released anew trailer for the title at the gaming event in Los Angeles. The 3D Horror Adventure game, exclusively for PC, is focused around the titular character – who was born on the auspicious date of June 6th, 1966. Surprisingly, as he grew up, life was quite normal for Lucius – who was fortunate enough to be born into a wealthy family. But everything changes when he reaches the age of 6 (that number again!).
Everything changed, though, when Lucius turned 6: His real father, the Devil, appeared in his dreams the night before his birthday, revealing that Lucius was his son, and the little boy's soul was promised to Satan long ago.
The Beast managed through Lucius to bring a descendant back to the earth – and so it is Lucius' task now to not only surrender his own life, but to bring Satan as many souls as possible, including those of all his family members and the service staff in the manor.
Equipped with supernatural powers, Lucius starts off to a blood-flooding tour of horror through his house that will minimize the population of the manor one by one by one…
Lucius is a new, upcoming 3D horror adventure. Players will have to orchestrate deadly accidents, using items, tools and hell's powers such as Telekinesis and Mind Control. By combining classic adventure gameplay with the freedom of a 3D world, players will have to use their wits and follow hints to make sure they don't leave any marks and can continue their evil mission until the very end.
See the creepiness in all its glory below:
Lucius will be available on PC from retail and online stores world-wide on October 26th, 2012.