The Queen Comes to Town in RuneScape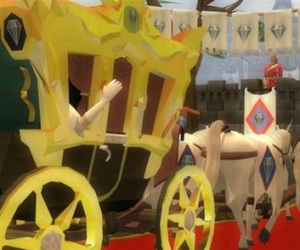 Are you tired of the Queen not being in RuneScape? Well, thanks to Jagex (and the aforementioned Queen's Jubilee), this is now happening.
In what must be the biggest street party going, the online world of RuneScape will be getting a visit from her majesty herself, in digital form on June 2nd at 2pm, and we've the trailer to prove it.
Why is the biggest street party, we hear you cry? Well, RuneScape has 198 million accounts, helped no doubt by the fact it is free to play, so anyone in the world can join this global celebration.
But enough talk, get watching the trailer below and tell us all about how excited you are for the jubilee celebrations, and not just the extra two days off you get if you're a UK resident.