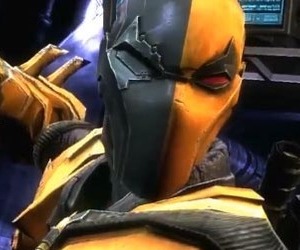 A new fighter has been added to the Injustice: Gods Among Us roster, in the form of fan-favourite Deathstroke.
One of DC's less-glamourised villains, Deathstroke (aka Slade Wilson) is incredibly popular with readers and was the inspiration for Marvel's Deadpool, who was actually created as a cheeky parody of him. A skilled, masked assassin who uses a small arsenal of guns and blades, Deathstroke is one of the less fantastical DC characters, but remains deadly nonetheless.
Injustice: Gods Among Us is a brawler built by NetherRealm Studios with the Mortal Kombat engine, and features the likes of Batman, Superman, Wonder Woman, Solomon Grundy and The Flash tearing each other apart with various screen-filling special attacks in multi-level arenas – and it's shaping up quite nicely, too.
Check out the new trailer for a glimpse of what to expect.
InJustice: Gods Among Us will be released in Europe in 2013 on Xbox 360, Windows PC, PlayStation 3 and Nintendo Wii U.