We're going to do something a little different here at GodisaGeek.com, try something new. Last year, when Apple released their Lion operating system upon the world, they also released the Mac App store. This store works a lot like the iOS App Store in the sense that you download full applications and they sit there in the launchpad, which looks very much like the standard iOS layout that you're used to, until you're ready to play them. No fuss, no messy installs, just download and play.
We're going to take a look at a couple of games from the Mac App store and, if you enjoy what you read, perhaps it could become a regular thing! This time on what we're calling 'Mac Medly', we're taking a look at E.P.I.C.: Wishmaster Adventures from Tiki's Lab and Supermarket Management from Playful Games.
Keep reading for a full review of each game, and even a handy little button to allow you to download them for yourselves. Don't forget to check back to GodisaGeek.com for more Mac Medleys in the future.
Get downloading and get playing!
Titles are available from the Mac App Store unless specifically stated otherwise. If you like what you read, click the small black "App Store" button to load iTunes up and purchase the title!

E.P.I.C.: WISHMASTER ADVENTURES:
Point and click adventure games are a strange breed, some people absolutely adore them, playing every single one they can get their hands on, and other people think that they're games without a very in-depth "gameplay part". I often count myself in the latter category but on the rare occasion that a game does capture my attention, I find myself playing them into the small hours of the morning. E.P.I.C.: Wishmaster Adventures is a point and click adventure game from the Mac App Store, developed by Tiki's Lab, but which of the categories does it fit into? Is it something worth playing?
As you'd probably expect from a point and click adventure game, the gameplay in Wishmaster Adventures revolves around solving a series of small puzzles in order to progress through the game and solve even more of the mystery. The mouse cursor that you'll be using through the game is context sensitive so it'll change based on what you're hovering over at any particular moment. Hover over something that can be collected (either now at some point in the future) and the cursor will change into a hand, something to look at will turn into an eye, and something that will require a closer look will turn into a magnifying glass. There are plenty of clues littered around the world for you to click on if you happen to get stuck, and there's even a handy hint system which is on a cooldown, allowing you to use it once every thirty seconds or so.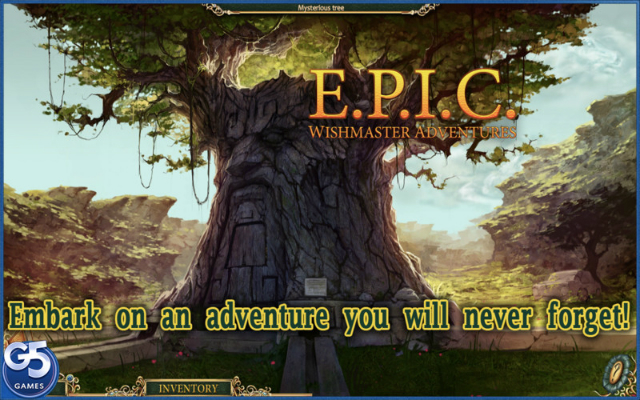 A point and click adventure game will often live or die on the strength of its story, and unfortunately the story in Wishmaster Adventures isn't all that interesting. The puzzles are interesting to play though, and you'll find yourself getting further and further into the game just because you want to experience some more puzzles, not because you want to know what happened to the main character, why she was kidnapped and whether or not she gets all of the things that she really wants. The way that the story is presented leaves a lot to be desired too, the animation style looks cheap and tacky and I actually found myself skipping the cut-scenes more often than not in favour of getting straight back to the puzzles.
The controls of Wishmaster Adventures are simple enough, you'll mostly be mousing over everything that happens to be in a scene until the cursor changes, then figuring out if it's useful right now or if it's something that will become useful in the near future; almost everything, if you can interact with it, will be useful at some point or another. One thing to mention about the controls, is that the graphical cursor that the game uses by default causes a massive amount of input lag, so much that the game is almost unplayable when it's left in its default on position. Going into the settings and going back to the Mac's standard mouse alleviates this problem but it may take a little bit of time for the average user to figure this out.
E.P.I.C.: Wishmaster Adventures is an interesting little title, but it's one that feels a little but unfinished at times. The puzzles are interesting enough though, and will genuinely keep people coming back for more if they're just interested in the puzzle element of the game. If you're looking for a point and click adventure game for the Mac that has decent gameplay as well as an engrossing story, this isn't the game that you're looking for.


SUPERMARKET MANAGEMENT:
I love a good time management game, I often find myself lost in them, telling myself that I'm "just going to do this next bit, then I'll stop". It's often the case that I'll tell myself this time and time again, until "this next bit" turns into a couple of hours later, it's gotten dark outside and I'm still playing the game, doing the same actions over and over again because I've gotten it into my head that whatever I happen to be managing will fail miserably without me at the helm. Supermarket Management is a Mac App, developed by Playful Games, that endeavours to do the same thing, just with me sitting at my Mac playing the game instead of tapping away on an iOS device. Does sitting at a computer make these type of games any more, or less fun?
The gameplay in Supermarket Management tasks the player with – you guessed it – looking after a supermarket for a boss that you just happen to have come across in the street one day as you, a recent, attractive college graduate were out looking for a job. The first thing that crossed my mind was "I wish it was this easy for everyone to get a job", the second was that Supermarket Management might actually turn out to be a decent game if you forgive this over the top, ridiculous story element and play the game purely as something intended to help you pass some time.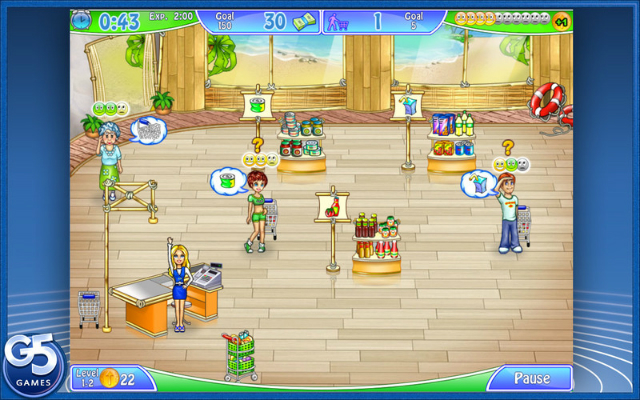 The game is split up into levels, and in order to complete each of the levels, you're required to satisfy a certain number of customers. This number is show at the top of the screen, as is how long you've spent in the current level. In order to make the customers leave your shop happy you're going to have to keep a close eye on the smiley face indicators that are above each person's head. If the customer can't find a particular item they're looking for, if you don't direct them to what they're looking for, or if you're simply not available to put their items through the checkout, they're going to leave unhappy, and that's not something you want. To keep everyone happy, and to keep your supermarket running smoothly, you're going to have to manage your time perfectly so that your shelves are always full, the confused shoppers know where their items are, and they're seen through the checkout process in the fast time possible. It sounds easy but it can get difficult in the later levels, not difficult enough to stop people playing (it's a game that's aimed squarely at a casual audience after all), but difficult enough to provide a bit of a challenge.
Supermarket Management is a decent enough Mac title and, if you're a fan of management games in general, then you're going to feel right at home here. There's not much in terms of diverse gameplay, everything gets a little bit to similar after a while, but if you're looking for a game that will allow you to waste a few minutes, whilst still being fun to play then you could do a lot worse than Supermarket Management.