Roxio Game Capture HD Pro Review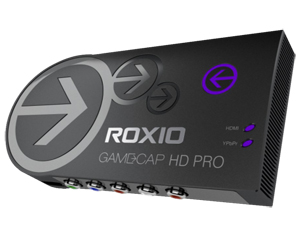 Product: Roxio Game Capture HD Pro Review
Price: £117.99
Everyone knows that YouTube is chock full of "Let's Play: Minecraft" videos, compilations of Skyrim's best bugs and walkthroughs of every game imaginable. If someone wants a piece of the pie, they need a starting point. A lot of game capture cards are out of the question for people because of their price and complicated built-in software. For beginners, Roxio's first HD capture card is the best solution.
Last year, we reviewed Roxio's standard definition capture device, and even though it is a decent starter pack for budding video producers, without HD, it's rendered obsolete in today's market. The HD Pro card is unobtrusive and an ideal size for carrying to your friend's house, or just taking it wherever you go. In the package, you'll get the device itself as well as a USB lead for connecting it to your PC/laptop.
Like the SD model, anyone can set up the Roxio Game Capture HD Pro with ease. However, if you're new to this game, be warned that the Xbox 360 is the only console that connects to the capture card using HDMI cables, all other consoles use component cables, meaning you'll need two sets of them, if you don't have any already. This isn't the fault of the device, though, the PlayStation 3 encrypts the HD signal for all capture devices, meaning component cables are the only way to go for Sony's home console. The difference is minimal really and shouldn't deter any PS3 owners, if you think you won't be capturing in true HD.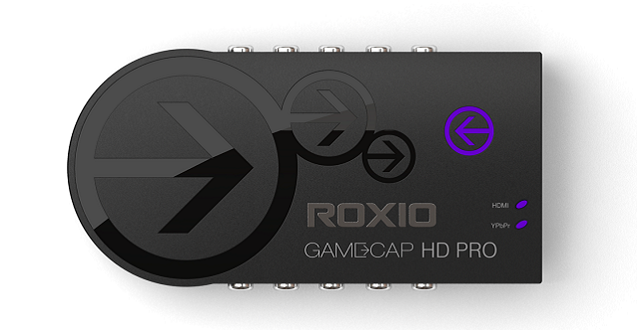 Setting up for the best output possible is really easy. The Xbox 360, in particular, is a synch and only requires you to connect a HDMI cable from the HD Pro to your TV, and a HDMI cable from your device to your console.  On PlayStation 3/Wii, the same process takes place, but with component cables instead. Then, the Roxio Game Capture HD Pro is connected to your laptop/PC via the included USB lead. It's incredibly simple and isn't time-consuming whatsoever.
The software package allows you to do a multitude of things; capture, stream and edit. Firstly, capturing game footage couldn't be easier. The UI is mapped out with big, bright buttons, with clearly labelled descriptions and instructions. This software was made for those that want great results, but may not be as technically minded as others.
With regard to recording gameplay, options may be limited for those that want a more robust level of choice. There is a simple slider for the ambiguously titled "quality", an input field to set the capture length if you want a specific duration on your video, an option to fiddle with the picture's colour and brightness properties, and the ability to increase or decrease the recording volume. Again, people that are very familiar with this sort of tech may consider the recording options inadequate, but with a brief lesson, newcomers will have it down in no time. You can record footage in 480/720p or 1080i, and you can set the video bitrate to whatever you wish, too.
One very helpful function is the ability to mute preview audio whilst you're recording game footage. A lot of capture cards don't have this feature, which is incredibly annoying. As there is a 2-3 second lag between your TV and capture device, disorientation happens quickly because there are two streams of audio are coming at you. Hence, why the mute option on the HD Pro is a very understated, yet fine touch.
Beginner, or expert, it can't be disputed that the quality of final product from this capture card is absolutely terrific, and the video below shows that. The device downscales the source video to the chosen setting on the software, meaning you can play the PS3 and Xbox on 1080p and don't have to worry about changing settings when you decide to capture footage in 720p.  I captured four games running on the PlayStation 3 and four games running on the Xbox 360 to demonstrate what the Roxio Game Capture HD Pro can do when recording in 720p.
The other perk of Roxio's HD Pro device is that it's enabled for streaming online. You'll be either prompted to enter your Justin.TV details, or asked to sign up. Once you've done so, you're ready to show the world how good you are at CoD on your Twitch.TV channel, in 240/360/480/720p. To stream in 720p, a better than decent internet connection is most definitely needed. I attempted streams on 720p & 240p and both were chugging to an unwatchable extent, the 240p stream slightly less. Just like the capturing portion of the software, advanced level streamers will more than likely find themselves restricted with the lack of customisation. It is, however, imperative to have a good broadband connection. Your results may be better than mine.
The bundled editor is surprisingly fleshed out with tons of transitions, overlays and effects. The more basic storyline UI is here, but for those that are looking to sink their teeth into something, the timeline editor is pretty good and accessible to the novice. In comparison to other, top of the range video editing software, this doesn't cut it, but it does do an awful lot right. It is laid out in a fashion that people with little to no experience with that type of software, will grasp it quickly. It has some nice features like overlaying commentary easily, picture-in-picture capability and it also allows the user to upload straight to YouTube and Facebook, from the editor itself.
VERDICT: For Windows users, Roxio Game Capture HD Pro is a fantastic option. Not only because of the simplified capture hub, but the bundled editor is much better than it has any right to be. Those with a bit of experience capturing footage will more than likely find the device restricting, with its lack of user input in some areas. This is, however, the best capture card on the market for people that are just starting off.  With its bright buttons and comprehensible display, you'll be uploading to your YouTube channel in no time.