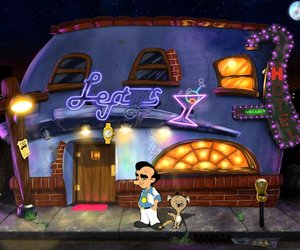 Yes, you didn't mis-read that headline. Award-winning composer Austin Wintory – best known for his score for Journey – has signed on to score the soundtrack to the re-mastered version of Leisure Suit Larry in the Land of the Lounge Lizards.
Wintory won a VGA award just last week for his musical work on Journey, and has even been nominated for a Grammy for the his music in the category Best Score Soundtrack For Visual Media. But now Polygon.com have reported that the composer is swapping the stoic beauty of Journey for the seedy innuendo of Leisure Suit Larry.
Austin said of the news: "Al Lowe, the original creator, reached out to me a little while ago… The team that's remaking it, Replay Games, they had been fans of Journey. It's actually shocking that they would think to call me because they couldn't be more opposite of each other… That's my era as a gamer growing up, this was like a fantasy to work on a game like that."
The game may be seen as a radical departure for the composer, but it appears as though the project will be more of a labour of love than work for Wintory. At least we can expect some high-quality sexy music in the title which had a successful Kickstarter campaign earlier in the year – and with original creators Al Lowe and Josh Mandel heavily involved in the development of the game, it is bound to remain true to the series roots – unlike the recent console-based Leisure Suit Larry titles.
Leisure Suit Larry: Reloaded will be released in Q1 of 2013 for Windows PC, Mac, iOS and Android