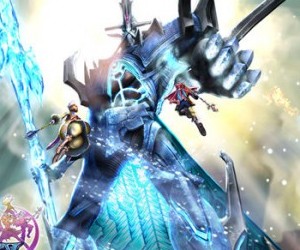 GungHo Online Entertainment America have confirmed that action RPG Ragnarok Odyssey and puzzle-platform hybrid Dokuro are coming exclusively to the PlayStation Vita this Winter.
Taking cues from the Ragnarok Online universe, Ragnarok Odyssey is a quest-based RPG with an action-heavy slant and featuring ad-hoc co-op multiplayer and a huge array of customisation options. The character creator has "over 20,000 possible combinations", and that's just the aesthetics – there are also six classes to choose from, and the adaptable combat system allows for huge attack chains and devastating combos.
Set in a fantasy world in which humans and giants are locked in a state of war, this Eastern-flavoured Action-RPG is all about laying the smack down on massive, screen-filling foes. It has a distinctly "JRPG" feel, but don't be put off by that – Ragnarok Online is hugely popular and Odyssey is looking impressively deep and customisable. Check out the screens below.
[nggallery id=1168]
Dokuro, on the other hand, is a slightly more sober affair, taking the form of a puzzle-platform hybrid, mixing side-scrolling gameplay with unique environmental puzzles. Using the Vita's touchscreen, rear touch-pad and gyroscope, players will take control of the titular Dokuro, a minion of the Dark Lord who turns renegade when he sees his master kidnapping an innocent princess.
In his quest to save her, Dokuro must fight his way through the Dark Lord's fortress, avoiding enemies and traps, and using a magic potion to transform his diminutive form into a dashing hero who can carry his ward across deadly gaps and spike pits. Here are the latest screens released by GungHo Entertainment.
[nggallery id=1169]
Ragnarok Odyssey and Dokuro will be available to download this winter on PlayStation Vita via the PlayStation Network.