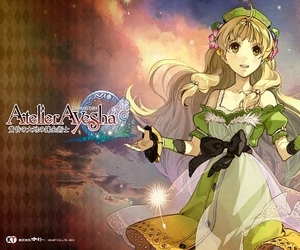 Tecmo Koei have announced that he latest game in the Atelier series, Atelier Ayesha: The Alchemist of Dusk – will be released on the PlayStation 3 on March 8 this year.
This is the latest instalment in the long-running RPG series, which is focused on the art of Alchemy – collecting and combining items in order to create new ones, and to advance your own skills. The games are created in a traditional Manga style, and this newest game will add many new features, battle system additions, and characters, as well as the promise of future DLC releases of costumes, characters, locations, and more items.
See an outline of the story below:
Atelier Ayesha: The Alchemist of Dusk follows the story of Ayesha Altugle, a girl who has been living alone in a secluded workshop ever since her grandfather died and her younger sister went missing a few years ago. She supports herself by making and selling medicine. As the story begins, she finds out that her younger sister IS alive somewhere in the world. Now, she must devote herself to finding her younger sister. Her journey to keep her promise begins…
Some of the game features include:
New story and cast of characters: Ayesha's mission is to find her younger sister, Nio, who went missing after she left home to gather medicinal ingredients, and Ayesha will be supported and helped by those already close to her, as well as new friends she'll meet along the way. This new setting will embrace all the Japanese RPG fans who are looking for a new kind of alchemy RPG!
Keep a diary to delve deeper into the story: The new Diary System allows the player to keep a log of Ayesha's activities. Keeping up with the diary, Ayesha will be able to gain more recipes, bonus stats, and items. Atelier Ayesha: The Alchemist of Dusk does not have any time restriction on each mission; instead, every mission will be connected and will help determine your success in finding Ayesha's younger sister.
Turn-based battle system: Atelier Ayesha: The Alchemist of Dusk features a turn-based battle system that emphasizes the importance of character positioning and distance from the enemies. Support and Assist attacks among your party will play a big role in each battle. Place your party members wisely and strategize your way to victory!
Back Attacks and unique character skills: Atelier Ayesha: The Alchemist of Dusk has an updated battle system that allows players to move behind the enemy; attack them from the rear to score critical hits! Get familiar with the special skills and abilities of each character to maximize your battle experience!
Alchemy gets even more exciting by focusing on the process: Atelier Ayesha: The Alchemist of Dusk features an updated synthesis system where Ayesha will learn special alchemy skills that she can use to fine-tune the details of the items that she synthesizes for more desirable results!
See a selection of screenshots for the game below:
[nggallery id=1214]
Atelier Ayesha: The Alchemist of Dusk will be released across Europe on March 8 for PlayStation 3.