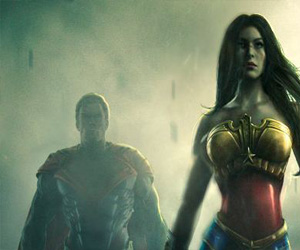 Warner Bros. Interactive Entertainment and NetherRealm Studios haven't been shy in revealing trailers and new images for their new upcoming Superhero and Super-Villain beat em up title, Injustice: Gods Among us.
In fact, we have been treated to a whole plethora of new videos to feat our eyes upon lately, but now the developers have finally released a cinematic trailer that gives us our first real look at the actual storyline featured in the game. Old NetherRealm titles never had much of a reputation for a good story, what with the Mortal Kombat canon being long and confusing – but in the latest Mortal Kombat game they remedied all of that and laid down an impressive tale that helped both clarify and shake up the tangled web that had been woven over the years.
So we can only hope that the same quality in story-telling will be afforded to Injustice, especially as all of the characters involved in the game have such strong backgrounds and motivations already, built up over many hundreds of thousands of issues of comics.
See the story-based trailer below:
Injustice: Gods Among Us is scheduled to release April 19th in Europe, and April 16th in North America on Xbox 360, PlayStation 3 and Wii U.