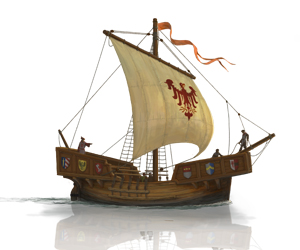 We were recently invited to Blue Byte's offices in Dusseldorf, Germany to check out the upcoming browser based, Free-to-Play adaptation of popular city building series ANNO.
Anno has become something of a PC gaming staple over the years. First launched in 1998, the Anno series has spawned six different full iterations, along with a variety of add on content that is synonymous with PC strategy titles.
Anno, for the uninitiated, is essentially a city building and trading simulation, in which players create and manage a city. Think SimCity, only a little more hardcore and with a historical setting. Anno Online will take Anno into the increasingly popular Free-to-Play space, with the game being fully playable in your internet browser. Yep, all in the browser, thanks to Flash and come coding wizardry, you won't even have to download anything to get playing.
Anno Online is most similar to Anno 1404 in terms of its appearance and setting, rocking a post medieval look that feels right at home in this genre of game. The preview we saw allowed us to start a small settlement from scratch, which involved setting up roadways, a harbour, dwellings for settlers to live in and a marketplace from which they can buy and sell goods. Providing access to the environment and buildings is key to Anno's gameplay. For example, building one marketplace isn't enough, as each building only services a set area within a set radius. There is a lot of micro management involved when playing an Anno game, with each building needing to be precisely placed to maximise its efficiency.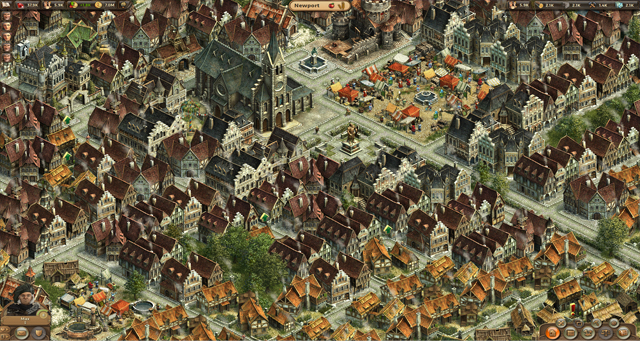 The start of the game had a helpful tutorial system that pushed me in the right direction, showing me the ropes so that I could build a small settlement fairly quickly. There was a fair amount of waiting around involved, as I waited for settlers to come along and make a home in my new town, and there are a number of prerequisites that must be met if you are to build any building for the first time. For example, to build a mill, you will need a certain population size, a grain farm and the right locale.
On the decision to use Flash as the front end development environment for the game, Daniel Schaeffer, Junior Producer at Blue Byte says;
"We wanted the game to be available to as many people as possible from day one. It's important that the game is playable to as many people in as many locations as possible, that way players can take the game with them, at home and at work. All you need is a computer with an internet connection to play, it really is the full boxed Anno experience in a browser"
From what we saw, Anno Online is exactly that, the full Anno experience, in a browser. It even looks the part, with the pseudo 2D/3D visuals looking great in game, every building (of which there are 200 different types) is dripping with detail and character. In the full version, players will be able to build cities with more than 1500 buildings, which is huge. So how will the game work for those willing to put in the time? Will you find yourself dipping into your pockets sooner rather than later?
The game operates on Ubisoft's "Free to Play" structure, which dictates that everything in the game should be available to the player whether they pay any money or not. In Anno, the pre-paid (£ – $) currency comes in the form of Gems, which can be exchanged for in-game items. The more you pay, the quicker your city will grow, with it being decidedly better off. However, if you want to play for free, forever, the only thing you'll need to invest is time, and that's fine by us, since Anno Online seems to be a delightful little game to while away a few hours with, and with it being a browser game, you can even dip into it on your lunch break.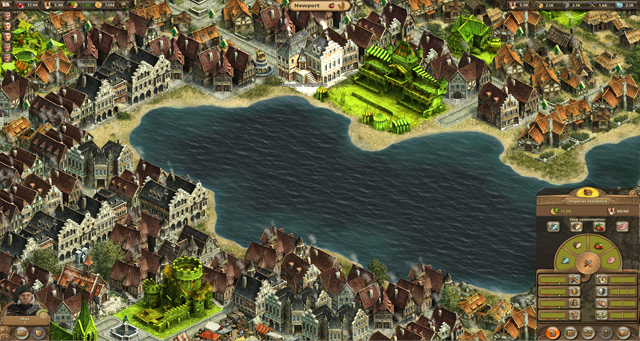 We also asked how players will interact with each other in Anno Online, with Tai von Keitz, game designer at Ubisoft Blue Byte, stating that;
"Players will be able to trade with each other in game, so that will involve the trade of goods and resources, and buying things from them. You can also visit other players in their zones and look at how their city is doing, and buff their production lines. We've also introduced guilds, and within guilds there are several options with which you can interact with other players. In Anno Online you can build monuments, and you can help other players out when they are building their monuments, which will in return help in the development of your city"
Anno Online is really looking like a great package, especially considering that you will be able to get a tremendous amount of satisfaction from it for free. There is an awful lot to be said for the joy that comes from building and planning a new city, all those grand plans quickly appearing in your mind, and all you need is a bit of time to make those plans come to life, and if you see fit, a bit of cash to help get you there.
Anno Online is looking great, and in a world where the majority of free to play games are only free because they failed to attract an audience, it will be interesting to see whether Anno Online can build up a community from the off on the back of its free-to-play credentials.
Anno Online is scheduled for release Autumn 2013