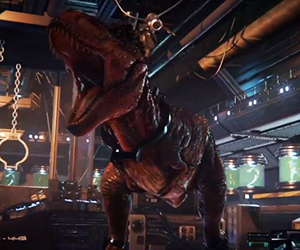 There aren't many things all gamers can agree on, but one of these things – without a doubt – is the lack of dinosaurs in video games.
As the world waits to see if Ubisoft will announce dinosaur-themed DLC for Far Cry 3 (please Ubi, PLEASE) Sony have announced next gen dinos in Primal Carnage: Genesis.
This is more than a great collection words however, there's an "immersive episodic single-player" game here too.
Utilising Unreal Engine 4, the reveal trailer below pays close attention to a futuristic lab in the centre of which a Tyrannosaurus Rex lays in slumber – but not for long.
This PSN title coming to PS4 comes from Lukewarm Media, who made the original Primal Carnage last year, a class-based asymmetrical online multiplayer game.
Genesis will be a lot different however being a single play story told in the same episodic way to The Walking Dead – hopefully with the same effect and if so to the same level of success.
Dinosaurs are back!