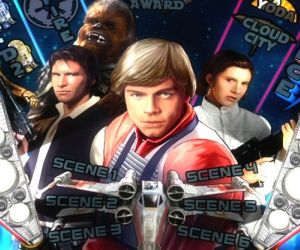 Game: Pinball FX2 Star Wars Pinball
Developer: Zen Studios
Publisher: Zen Studios
Available on: Xbox 360, PlayStation 3, Wii U, Windows PC, Mac, iOS
Reviewed on: Xbox 360
Our love of Zen's Pinball games is no secret – cast your eye upon the Godisageek archives for proof of this very fact. Their recent HD re-imagining of earlier vintage tables was hit and miss, but still contained the incredible Tesla table, and the recent Plants Vs Zombies effort was way too easy. Give Zen a bumper license, however, and you can be damn sure they will deliver the goods, as their superb plethora of Marvel-based tables attest.
Licenses do not come much bigger than sci-fi juggernaut Star Wars. Beloved by film fans and gamers alike for a staggering three and a half decades, anything that ties in with George Lucas' multi-tiered space opera is scrutinised by legions of fans, whether it is a LEGO set, a comic book or indeed a videogame.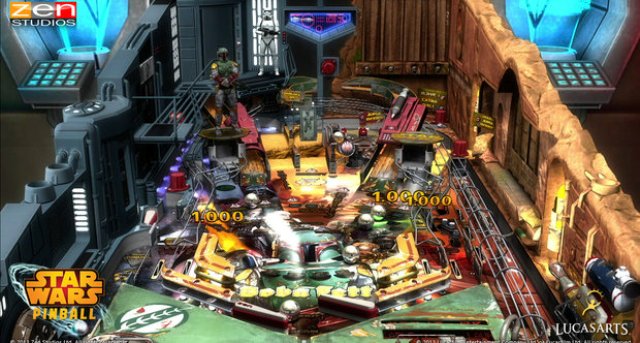 Before Zen were granted the chance to work their magic with Luke Skywalker and company, there had of course been a handful of physical Star Wars-related pinball tables – ranging from the traditional 1992 Data East effort to the fantastic 1997 Episode I table, which featured a hologram-style video screen and was the last table ever created by Williams. That table was a last-ditch attempt from one of the great triumvirate of pinball manufacturers (the other two being Gottleib and Bally) to re-ignite public interest in what was a dying form of entertainment. It was an excellent attempt, with some genuinely innovative features and showed just how far the medium had progressed since the Golden Era of pinball tables – yet gamers and arcade goers had moved on. You hardly ever see a table in the wild these days, which is a shame. Which is why we should cherish Zen for keeping those pinball dreams alive. Could they have just served up the best Star Wars pinball games yet?
Zen have promised that a total of ten Star Wars-related tables will eventually be available for use with Pinball FX2, but have kicked off proceedings with a generous downloadable triple pack priced at 800 Microsoft Points. Seeking to curry favour with the legions of Star Wars devotees, Zen have with the first of the trio gone straight for the fan-base jugular, basing the table on Episode V: The Empire Strikes Back – widely regarded as being the pinnacle of Lucas's initial trilogy. It is a cracker, too – a super blend of traditional pinball action with the kind of videogame wizardry Zen have become famous for integrating into their playfields that just would not have been possible in a real arcade.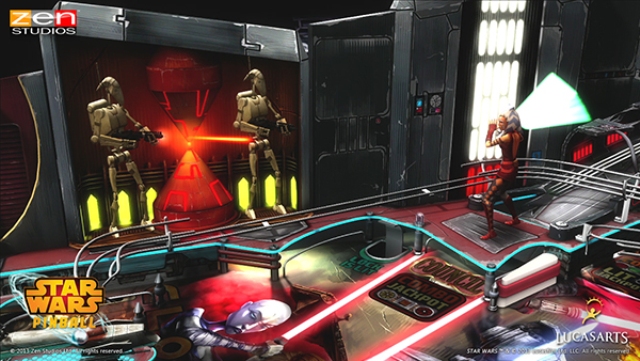 The action is fast paced, with a number of ramps, flippers at the top and bottom of the field, and an excellent distribution mechanic whereby your ball is re-deposited back into the field from the far reaches by an uber-cool lightsaber that points and aims, indicating where it will end up. Some of the minigame elements are superb, such as a battle with 3D TIE Fighters that swoop across the screen, an encounter with an AT-AT, destroyable Storm Troopers and sweet digitised clips and speech from the film. There are even off-table sections, which allow you to take control of Skywalker as he attempts to master The Force – but don't expect anything too deep, as you simply use the flipper and plunger buttons to beat off blaster rounds in a kind of rhythm-action-style.
Next up is the Clone Wars table, which deviates away from the original trilogy films into what was unfamiliar territory for me, despite a cool intro sequence that features the trademark "In a galaxy far, far away" scrolling narrative text disappearing into the distance. Based upon the popular television series, this is a fast-scoring, slightly easier table packed with more excellent minigames that follow protagonists Anakin and Ahsoka doing battle with all manner of Droid nasties.
There are some excellent touches – such as the gunship that can be unlocked which swoops down to save your ball, and a brilliant minigame where a force field is deployed onto an area of the table which needs to be disabled by finding a way to aim the ball behind it through expert use of gaps and ramps. Compared to the other tables in this pack, Clone Wars is a refreshing change of pace in that it is considerably easier to make progress, whilst not heading into the ridiculously generous territory that was the downfall of Zen's aesthetically-ace but woefully-flawed Plants vs Zombies DLC.
Completing the set is a table based upon one of the most beloved of all Star Wars characters – the enigmatic, kick-ass bounty hunter Boba Fett. Designed with a superb burnished, weather-worn look, and featuring all manner of nods to Fett's story, including Jabba The Hutt and the Sarlacc pit-beast that was to eventually lead to his demise, this is another brilliant table. It is certainly a bit trickier than the preceding pair – it is particularly unforgiving in that it is possible for the flipper midway up the field on the left hand side to easily ping the ball straight into the right gutter for a stinging loss. But there is no denying that Zen have put a lot of time into the design of this table, squeezing the maximum amount out of Fett's relatively limited appearances in the films, and really capturing the spirit of his bounty hunting exploits.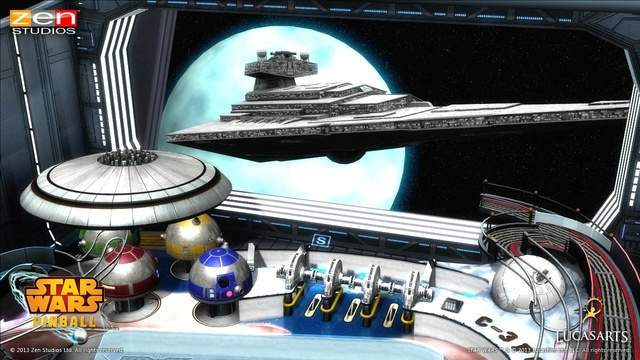 VERDICT: It doesn't really matter one jot whether you are a fan of the source material – quite simply this is an excellent package that shows Zen are true masters of their art, modern-day pinball geniuses who seem to be improving with age. With excellent design that combines spot-on physics, great old-school pinballing and modern videogame elements, there are literally hours of gameplay here to enjoy.
Considering that this is perhaps the first major post-Disney Star Wars product to surface, the license has been put to expert use, with three genuinely interesting, fan-pleasing subjects chosen to kick off Zen's proposed Star Wars saga. As long as they steer clear of Jar Jar Binks, the future is bright.