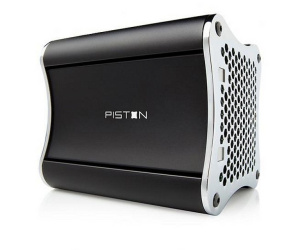 At CES this year, Steam aficionados and console gamers (that are not keen on playing games at their desktop) were delighted to finally see the very first (sort of) Steam Box.
The Piston was revealed by hardware manufacturer to be the fruits of their monetary partnership with Valve and it all looked pretty damn cool.
Yesterday, Xi3 announced that they're now taking pre-orders for the living room PC and that prices start at $1000. Obviously enough, many were gutted at that price point. following the announcement, Eurogamer spoke with Valve's Doug Lombardi who distanced the company from Xi3's Piston.
"Valve began some exploratory work with Xi3 last year, but currently has no involvement in any product of theirs"
Hmmm…strange. We're all aware that Valve are currently working on their own Steam Box – codenamed Bigfoot – but last January, it all seemed clear that Xi3's product was also being backed by Valve. In response to Valve's statement to Eurogamer, Xi3 issued a statement to Kotaku that said Valve backed the Piston and specifically asked Xi3 to make it;
"We reaffirm the fact that we received an investment from Valve Corporation (as we previously disclosed during the 2013 International CES trade show), and we did so with Valve's written permission. Second, we were asked to build a product specifically for Valve, and both companies showcased this product—the Piston Console—in their respective booths at CES 2013. Then, during a meeting with Valve at CES, Gabe Newell personally asked me that we not disclose additional information about our relationship with Valve. We have honored that request and will continue to do so."
Xi3 has said that they've been "amazed" with the interest in pre-orders have also issued concern in not being able to meet the demand that the general public are showing in their product, at this time. The statement finishes on a note that would have any boxing promoter giddy with the potential PPV success;
"In closing, what Valve does or doesn't do with its Steam Box will be up to them. So Gabe, it's up to you. The ball is in your court."
I think this is the part where all of the Internet kids would normally type out something like – *drops the mic*. What a peculiar situation, though. As soon as there's any update in this story, we'll be sure to let you know.