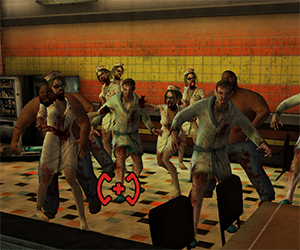 Based on the, quite frankly incredible, 2009 Wii lightgun shooter, The Lost Reels brings the grind-house flair to iOS and Android devices.
Costing a pretty £2.99 this app appears to act as a prequel of sorts to the first Overkill with its three levels showing how Agent G and Washington got from Bayou City to Papa Ceasar's Mansion – the first level in the original House of the Dead Overkill game.
The game also features a survival mode and a clutch of achievements to keep players amused beyond the 'story' mode.
I feel it important to point out that this game isn't developed by Headstrong, creators of the classic Overkill. This game is handled by Magic Pockets, though they have handled mobile versions of Sims Medieval and Mini Ninjas, so they must have a good sales pitch if nothing else.
I loved House of the Dead Overkill so this interests me, but there's no mention of voice acting or even a hint of it in the launch trailer which is, admittedly, worrying. But hey, it exists and I have told you, and that is my job.
House of the Dead Overkill: The Lost Reels is available now on all iOS and Android devices