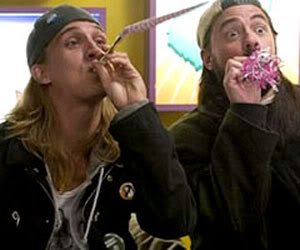 Celebrity endorsements are normally rotten. Girls Aloud, Nicole Kidman and…*shudder*…the Redknapps, are just a few. The latest one is at least a bit more honest.
You may remember them as Jay and Silent Bob, but in reality, both Jason Mewes and Kevin Smith are big comic book fans, respectively. Today, we've seen the TV spot for the upcoming Injustice: Gods Among Us, thanks to Destructoid.
When we were younger, we all had those conversations about what super hero is the best and now you get to see the guys from Mallrats have that exact debate.
Dogma is my favourite. For the record.
Injustice: Gods Among Us is available now for iOS and will be released on April 19 in Europe and April 16 in North America for Xbox 360, PlayStation 3 and Nintendo Wii U