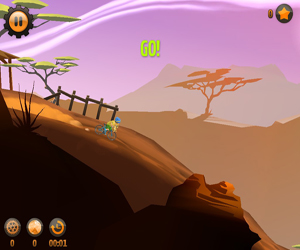 It's nice to give back sometimes. Global Gaming Initiative is a publisher you may not be fully familiar with, but their efforts to help charity deserve to be highlighted. Through the means of mobile gaming, GGI's CEO and founder Elizabeth Sarquis outlines the company's message:
"The concept is simple. This initiative is about teaching a generation about the value of giving in a medium they understand – the smartphone game. At our core, we are a game publisher that creates compelling, fun mobile games that better our world."
Their first game is Sidekick Cycle which is a downhill racer and will come to the App Store in June for 69p. Half of the money accumulated through sales and micro-transactions will go to the charity World Bicycle Relief – who get high quality bikes to many people within the developing world.
To break it down into numbers: every 387 purchases of the game will get a new bike to someone who really needs it. In the future, GGI plan to incorporate other charities in to their mobile titles.
[nggallery id=1459]